Winter 2011 Music Reviews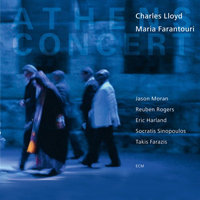 Charles Lloyd/Maria Farantouri
Athens Concert
ECM
A likely Grammy winner, should a category for such eclectic, pan-cultural music-making still exist, this remarkable live concert pairs venerable jazz saxophonist Charles Lloyd with the great Greek vocalist Maria Farantouri. The culmination of an eight-year relationship between Lloyd and the woman whom man
Lloyd shows total respect for Farantouri's legacy as the contralto who joined Mikis Theodorakis' ensemble when she was 16, then kept his music alive during the seven years that Greece's military dictatorship banned its performance. Both artists are masters of the slow lament and emphatic outburst; Lloyd's flights and original melodies seem right at home alongside centuries old Greek songs. Listen, for example, to Lloyd and his band swing their hearts out at the end of "Yanni mou," a traditional song from the Epirus region (with added piano by Takis Farazis). Then marvel at the exquisite refinement of pianist Jason Moran's introduction to Lloyd's "Prayer" (Prosefhi). From first track to last, this extraordinary melding of jazz riffs with traditional and modern Greek songs sings with great beauty.
Maria Callas
The Callas Effect
EMI
From the mid 1950s through her death in 1977, soprano Maria Callas was as notorious as Lady Gaga is today. When she began her professional career in 1947, at the age of 24, she was an overweight young woman with an astounding, if unruly, voice and remarkable innate theatricality. Initially considered a dramatic soprano, her astounding agility soon found her singing Wagner one night, and the lighter, high-flying bel canto operas of Bellini the next. No one in the 20th century had ever dared do such a thing, let alone pull it off with such consummate musicianship and riveting stage presence.
Callas performed wonders with a voice that ravished some and sent others running. As her fame spread – cover stories in Life and Time, rare TV appearances, opening nights at the world's greatest opera houses, and a following whose enthusiasm matched that of Marilyn Monroe's fans – she lost a large amount of weight and transformed herself into an extraordinary beauty. The greatest stage designers and directors of her day – Visconti and Zeffirelli – mounted elaborate productions for her, and the finest conductors – Serafin, Karajan, and Bernstein – worked with her in performances that have never been equaled.
Then came the unraveling. First, a series of increasingly publicized scandals that culminated in Callas's infamous 1958 opening night walkout at Italy's La Scala that left the President of Italy high and dry. Then, in 1959, when signs of vocal deterioration became increasingly evident, she and her husband joined Greek shipping billionaire Aristotle Onassis, Winston Churchill and others on a highly publicized cruise on Onassis' yacht, Christina. By the time the yacht returned to port, Callas had dumped her husband and begun an affair with Onassis. Her performances became fewer and fewer, as she traded the stage for high society. Finally, after a series of fabled albeit flawed operatic appearances in 1964 and 1965, she called it quits.
The final blow came when Onassis, whom she had hoped to marry, dumped her for Presidential widow Jackie Kennedy. Devastated, she appeared as a non-singing Medea in a film by Pasolini, taught a series of master classes at Juilliard that later became the subject of a play by Terence McNally, and undertook an ill-advised concert tour in 1973-1974. Her last years were spent as a virtual recluse in her luxurious Paris apartment, where she became increasingly addicted to sleeping pills. At age 53, her heart burst.
EMI has assembled a handsome package that includes 29 great arias; an informative, introductory DVD that purports to set the record straight but omits most of the scandals; a small collection of photos; and a valuable career overview by critic, opera director, and former drag diva Ira Siff. Although exact recording dates are not supplied, the bel canto aspects of Callas' career are shortchanged – there's nothing from her live Lucia or Sonnambula, for example – and the only live excerpt, from the famed "Lisbon Traviata" that was the subject of another McNally play, carefully omits a rocky high note that gave evidence of the denouement – this music will seize your heart, shake you to your foundation, and make clear what the tragic genius named Maria Callas was all about.
Ma, Duncan, Meyer and Thile
The Goat Rodeo Sessions
Sony Classical
God bless Yo-Yo Ma. Rather than stick solely to classical repertoire, the lovable cellist has spent the last 15 years collaborating with musicians from other genres. Even though he does not improvise, as do many of the bluegrass, jazz, and Silk Road musicians with whom he works, he has found a way to join with them that elevates their music-making.
On The Goat Rodeo Sessions, Ma lends his cello to the bluegrass strains of Stuart Duncan's fiddle (and, on "Here and Heaven," banjo), Edgar Meyer's bass (and, on two tracks, piano), and Chris Thile's mandolin. Everyone save for Ma occasionally switches instruments. On "Here and Heaven," Duncan trades fiddle for banjo, Meyer trades banjo for piano, and Thile joins gifted singer Aoife O'Donovan on mandolin, gamba and vocals. Meyer, in turn, mixes bass with gamba. On "Where's My Bow?", Thile and Duncan both play fiddle. All this multi-instrumentalism makes for vibrant colors and contrast, and adds variety.
The album's 11 tracks variously rock, charge forward, and settle back. Meyer, Thile, and Stuart, who wrote all the songs (with help from O'Donovan on "Here and Heaven,") are sophisticated musicians with infectious energy. Although the album's title signifies a lack of order, the musicianship is all of one piece.
Judy Garland
The London Studio Recordings 1957-1964
First Hand
Within a year after I joined New York's Gay Liberation Front in 1970, I received a coming out letter from one of my former fraternity mates at Amherst College. When we finally reconnected, he confessed, "Since I was a kid, the music I've loved the most has been opera and the songs of Judy Garland. How come I never figured out I was gay?"
With her penchant for parading her pain before the public, Judy Garland was America's white version of France's Edith Piaf (Billie Holiday was the black version). An extraordinarily gifted singer and actress, the woman born Frances Ethel Gumm became addicted as a teenager to the amphetamines and barbiturates that MGM fed her as she sang and danced her way through one film after another. By the time that her fans realized that Dorothy's yellow brick road in The Wizard of Oz had been paved with uppers and downers, Garland's life had become a roller coaster ride of failed marriages, suicide attempts, crashes and comebacks. I'll never forget her final appearance on The Tonight Show, when she was so wrecked that she could hardly hold her head up. Attempts to settle her down by bringing on Margaret Hamilton, who played the Wicked Witch of the West, resulted in Garland's slurred comment, "Who cares about the Wicked Witch?"
What we do care about is Garland's extraordinary vocalism. Newly remastered at Abbey Road Studios where they were recorded, the 43 tracks on this two-CD set show her holding nothing back. Even when she was in fragile health, as she was before the 1964 sessions, Garland gave her all. From "Over the Rainbow" and "San Francisco" to "Stormy Weather," sometimes in never-released alternate takes or rare piano-accompanied recordings, it's all here to revel in.
Jason Victor Serinus is a holistic author, bodyworker, whistling virtuoso and music critic (www.jasonserinus.com) who resides in Oakland, CA. Please send music review copies to Jason at 2749 E. 17th Street, Oakland, CA 94601 or email jserinus@planeteria.net.