Wisdom of the Peace Village Elders Documentary Series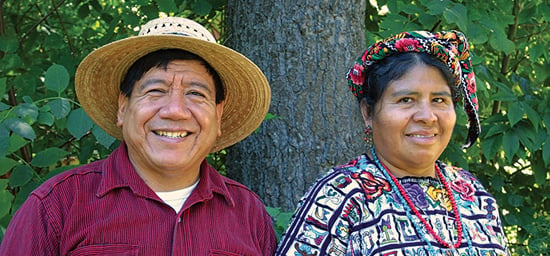 Are we so hypnotized by our steady diet of media-fed horrors that we've despaired of ever achieving the dream of a violence-free world? Or are we ready for the shift from the war path to the peace path? Does anybody even know what peace looks like?
"The Wisdom of the Peace Village Elders" documentary series produced by Mutual Abundance Media provides a rare opportunity to witness native elders from North, Central and South America who have visited Sunray Peace Village in Bristol, VT, exploring how to walk the way of peace and sustainability in a world overrun with paths to war and environmental devastation. At the Peace Village, the indigenous elders remind us that we are co-creators of our agreed upon dream/reality. "Change the dream!" the elders inspire, calling for us all to reconnect to the cycles of Nature, and to practice compassion-in-action in our daily lives. Only together, moment to moment, can we co-create and energize a future of peace and equanimity on the planet.
Mutual Abundance Media is producing these documentaries as independent films in order to guard the integrity and freedom of expression of the featured Native elders. Presently, two documentaries have been filmed, however additional funding is required to complete editing for the summer of 2010.
1. 2012: What Future Do You Want to Energize. Watch a 6-minute video excerpt (www.peacevillageelders.com) narrated by Algonquin elder Mike Bastine, who delivers a positive and powerful antidote to the misunderstanding and fear that surrounds most messages about the end of the Mayan calendar on December 21, 2012.
2. Midwifing Mayan Rebirth chronicles the extraordinary efforts of Mayan elders Felipe and Elena Ixcot, who courageously left the safety of their status as US refugees to return to their home village in the highlands of Guatemala to found, build and co-direct the groundbreaking midwifery and birthing center ACAM. Laboring to overcome immense obstacles, the traditional medicine ways and precious wisdom of the Mayans is being preserved and rejuvenated.
Through this documentary series, the elders have entrusted us to deliver their messages as good medicine for the planet now and for generations to come. Serving as a template pathway of light, these films can lead us toward making wiser choices and taking a stand for enlightened social change. Please visit www.peacevillageelders.com to take action or donate to bring this project to completion or contact producer Katherine Marielle directly at (416) 656-4949 and become part of an important tipping point towards a culture of peace.