Working At The Casa del Refugiado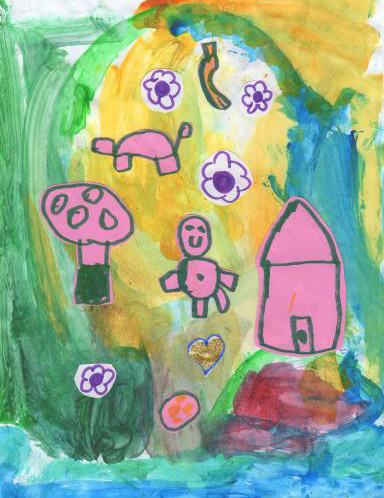 For most of November I worked as a short-term volunteer at the Casa del Refugiado, the House of the Refugee, located near the border in El Paso, Texas. I worked in hospitality taking care of the many needs of our endless stream of guests who needed shelter, food, clothing, help making travel arrangements and other necessities.
The casa was housed in a huge crumbly warehouse on the east side of El Paso. It was a long cab drive from the train station. I had no idea where I was. The building had barbed wire- topped chain link fence and security was tight. You had to be buzzed in, only after your identity was verified by someone in the office. The ICE bus came through a special security gate. The building was a confusing gloomy labyrinth until I figured it out. Security was tight since the August 3 massacre that targeted Latinos and left twenty-two people dead. No one wanted to take a chance that another massacre could happen at the shelter. I was glad for all the security.
Our guests usually arrived in mid-afternoon on Immigration and Customs Enforcement (ICE) buses after having crossed the border illegally and having been detained for a few days by the US Customs and Border Patrol. Most of the guests were families. They were released on parole with papers that allowed them to travel to their relatives and friends. Many had their cell phones, birth certificates, and other important documents stolen by immigration. ICE locked on one adult member in each family a thick heavy black ankle bracelet to track their movements. Our guests carried their parole papers and a battery charger for this ankle bracelet in a clear quilted plastic bag. The ankle bracelet batteries had to be powered with charged batteries three times a day. It could not be removed. Often the bracelet scraped painfully against the bare skin of the wearer.
The guests were tired after being detained by the Border Patrol and ICE in rough conditions. Yet they seemed hopeful for a better life and the chance to be reunited with their relatives in the north, seeking safety and glad to be escaping the violence and poverty in their own country. They arrived with the clothes on their back and often wearing flip-flops with no socks though it was very chilly in El Paso. Those that did have shoes had no laces in them. Immigration took their laces. One of my jobs was intake. I work with the families immediately after they arrived at the casa to fill out forms with their basic information, call their relatives to see about their purchasing tickets by bus or air for the family, confirm travel arrangements, and coordinate trips to the airport and bus terminal with food and snacks well in advance of departures. The very small children were energetic and boisterous and ran around the big room while I did this. The older children were calmer. There were babies and pregnant women. Most families would leave the casa soon, within twenty-four hours, after having showered, obtained a change of clothing, and had some meals.
I had wanted to volunteer in hospitality on the border since I had become aware of the large numbers of refugees crossing the border and their needs. I was moved by the bad treatment of refugees to want to help them and be a friendly face. By the time I was accepted as a volunteer at the casa, the large numbers of refugees had ceased. Because of a US policy development called the Migrant Protection Protocol, also known as the remain in Mexico policy, most Honduran, Salvadoran and Guatemalan refugees had been pushed back onto the streets of the border towns in Mexico. They are certainly not protected and their lives are in grave danger. Thousands of refugees are camped out on the streets of Juarez in small tents or even nothing. All are in very dire conditions of severe cold, lack of sanitation, lack of food as they wait for their turn to enter the US. Some have been waiting for months. All are in great danger of being attacked by criminals that plague these encampments. Requesting asylum is an international human right and it is horribly wrong that people have to wait weeks and even months to do this and then get arrested by the Border Patrol when they enter the US for seeking asylum.
Some migrants can get through quicker. It seems that the Mexican government doesn't want the Brazilians who wouldn't be able to work in Mexico because they don't speak Spanish. The Brazilians seem to have money and take advantage of this loophole to migrate into the US after flying to Ciudad Juarez. Mexicans are allowed into the US because they are fleeing severe cartel and mafia violence in their own country which cannot protect them and are entitled to seek asylum in another country. Everyone turns themselves over to the Border Patrol as soon as they arrive. They are arrested, then turned over to ICE, and eventually released. All our guests had papers with an ICE identification number saying they were paroled on personal recognizance, even little babies. These papers let them travel. All the guests had an appointment in two weeks at the immigration office nearest their new place of residence.
Because most of the Central Americans have been pushed back into Mexican border towns, the numbers were down at the casa. We averaged about a hundred guests a night, which included many children. I had heard stories about volunteers breaking down from dealing with the sheer volumes of refugees, like a thousand a day in May and June. I didn't think this would happen now. Despite some hectic times when many guests arrived all at once on the ICE buses, a crew of volunteers could quickly do the intake and get everyone settled in the dorm.
Our guests slept on cots in a large very well heated space. They were not overcrowded. After intake, they each received some basic hygiene things like toothbrushes and toothpaste, a towel, a red cross blanket, and a sheet. There were some sinks where they would wash up. The warehouse had no functioning indoor toilets but right outside was a row of porta potties with bottles of hand sanitizer. There was also a huge Red Cross shower truck. Soap and shampoo were in the showers.
I soon settled into a shared room in the volunteer quarters. My roommate who was about my age had arrived a week before from Minneapolis. There were about five other short-term volunteers who were soon to leave. Long-term volunteers, those making a commitment for a year or more, had their own quarters on the other side of the warehouse. The short-term volunteer lounge was a large windowless room with a refrigerator and microwave, comfortable couches, guitars, and lots of books and snacks. I got to know the other volunteers from all over the country. There were two work shifts: early starting at seven in the morning and late starting at two and going until ten at night which was late for me. I was always assigned the late shift and it was hard keeping up my energy until ten.
After a few days I began to get a sense of the work. There was always work. The big push in the afternoon was intake so we could confirm our guests' travel arrangements. The volunteers kept busy with sweeping, cleaning, disinfecting with Clorox wipes all the handles and railings in the place, keeping the intake area free of trash, emptying trash, making calls, answering phones, helping in the clothing room, organizing donations, preparing hygiene kits, packaging baby formula in small plastic bags, folding sheets and towels, and many other tasks.
I got into the swing of the work. I quickly found brooms and cleaning supplies. I was always sweeping and also always being interrupted. Always guests would come up to me with a request. They needed diapers for their baby. Or something for a sore throat or a headache or a teething baby's pain. We had a clinic and it was staffed sometimes, but it was always possible for me to go there and get Tylenol or whatever was needed. If they were Spanish speakers I could usually understand them. However, it was almost impossible to understand the Brazilians but we managed somehow with lots of pointing and pantomime.
I worked all over the building, but especially in the play room which the children really enjoyed. They got right to work with puzzles, Lego blocks, toy cars, drawing materials, glitter, and so many toys. Stuffed animals got many tender hugs. A rocking horse swung into action with lots of little riders. Babies bounced up and down in the bouncy seats. There were even dress-up costumes. I enjoyed the sight of little girls in long frilly dresses transformed into graceful fairies – even with wings. A little boy sped about in a spider man costume and a rainbow wig. The children delighted in wearing the Halloween costumes. The walls of the room were covered with their vibrant drawings from floor to ceiling. The playroom was a joyful place and it gave parents a break from the stress of their situation.
Once a week each volunteer had an overnight shift in what was called the "tree house," a small room with a bed overlooking the dormitory. This person would be on-call during the night in case there were any problems. I did this overnight three times. Luckily there were no problems and I was undisturbed. There were some crying babies now and then but their mothers took them out into the corridor and walked them back to sleep as they finally calmed down. A few times I heard the delightful sound of children singing themselves to sleep.
Although the building was basically a warehouse, much creative effort had gone into making it cheerful and attractive for the guests. Many interesting colorful large murals livened up the spaces. Silk-screen prints were on the walls in many hallways. This most important enrichment of the space was the result of the creative talent of the faculty and students at the nearby University of Texas at El Paso.
Meals were provided for guests and volunteers. Lunch and dinner always were delivered by volunteers from local churches. They would arrive like clockwork with the food, be buzzed in, and set up a serving line. The food was simple and tasty and always included rice and beans. I ate with our guests and was never lonely at dinner or lunch. I learned some of their stories and their struggles to get here. I tried to know them a bit. Our conversations focused on their future, the city they would go to and how their children would very soon be attending school. I tried to make it clear that they would be going to cold places, that shoes and socks were very necessary and snow was a real possibility. No one had any real experience with snow so far.
We had a big dining hall and everyone pitched in at the end of a meal to wipe the tables, stack the chairs, sweep and wash the floor. Most of the guests relaxed in the dorm, however some would want to go out and they certainly could do this as they were not in a prison. The kids were happy to explore all the toys in the play room, run up and down the hallways at top speed, and play soccer in a central space in the dormitory. Meanwhile in the office the volunteers worked on confirming travel arrangements and making sure the guests knew when they were going to leave so they could be ready. They had to be sure to have gotten warm clothes.
In the food room, we prepared travel bags for the guests with peanut butter and jelly sandwiches, snacks and small toys for the kids. I know this was very helpful for those traveling without money. I made hundreds of these sandwiches on thick slices of white bread and felt sure they would well sustain our traveling guests.
Working at the casa was hard. The work never ended until I crept to my bed at ten. And then the next day it would start all over again, with different guests. I was often exhausted and felt like collapsing. I was used to having more time to myself. There was plenty to do. I thought about quitting but then I remembered that I had made a commitment to be as useful as possible and I wanted to honor that. I was here for the guests, not myself or my own comfort. There were many other volunteers from the local El Paso community and religious orders who were a great source of inspiration and encouragement. I felt great joy from watching the children play. So, I stuck it out. At times it got cold and freezing. We were uncomfortable when it was cold and pouring rain but I thought of the many people stuck outside on the streets across the border and how much more uncomfortable they would be. Here at the casa, I had a bed, in a room, in the warehouse. Our guests, the refugees, all had cots and blankets in the heated dormitory.
My days at the casa were long grinding continuously busy eight-hour days. I was indeed glad when it was time to head north to Boston to the comfort of my own home, flush toilets, and a bathtub. I was glad I could be helpful for these families. I was very moved as they left and so warmly thanked us for what we did. There still is so much more work to be done and this includes the work of justice and peace so people will be safe in their own countries. The big work is for us all to keep learning the stories of the struggles of the migrants who courageously have left everything to seek a new life. Learning the truth will only inspire us to open our hearts more to help, help that is greatly needed as the U.S. continues to violate the human rights of those at its southern border.
Maria Termini, mariatermini2013@gmail.com, 617 553 2762. Maria Termini is an artist, public speaker, and musician.
You can help by donating to the Annunciation House!
Annunciation House is an immigrant advocacy group that coordinates an El Paso-Las Cruces area network of temporary shelters housing newly- arrived migrants after they are processed and released by U.S. immigration authorities. Annunciation House and its houses are sustained totally by contributions of individuals, groups and faith communities.
Donations can be made online through PayPal at www.annunciationhouse.org. Your gift can also be sent in the form of a check made out to Annunciation House. Please mail your donation to:
Annunciation House
815 Myrtle Avenue
El Paso, Texas 79901
Annunciation House is a 501(c)3 organization; all donations are tax-deductible.
See also:
What's Really Happening To Immigrant Families At Our Border
20 Ways You Can Help Immigrants Now
12 Photos: What Hope Looks Like For Refugee Camps At The U.S. Border