Yes to Compassion: 12,000 Icelanders Step Up For Refugees, Shaming Their Government (and Several Others')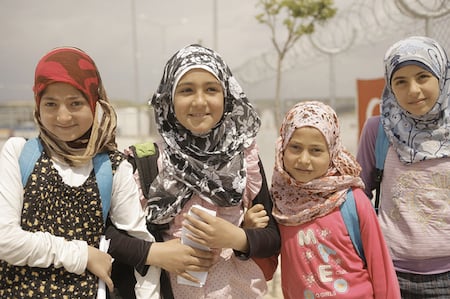 Under the rubric, "Just Because It Isn't Happening Here Doesn't Mean It Isn't Happening," over 12,000 Icelanders have offered their homes and spare bedrooms and moral support to Syrian refugees after their own government said they would only help 50 of an estimated 4 million people fleeing Syria's brutal civil war. The call for help came from Icelandic author and professor Bryndis Bjorgvinsdottir, who posted an open letter on a Facebook page titled "Sýrland kallar," or "Syria Is Calling." She argued that many Icelanders have wearied of horror stories of migrants drowning and destitute in camps and "they want something done now," adding of those refugees, "We'll never be able to say to (them): 'Your life is worth less than mine.'"
The generous response in Iceland, representing almost 5% of that country's 330,000 inhabitants, comes amidst increasingly desperate stories of flight – some Syrian refugees are now said to be biking across Norway's border – and urgent calls for help that have often met with tepid reactions. The U.K. has said it would take just 216 refugees – a number, it's been noted, that wouldn't fill one subway car – and the U.S. is taking about a thousand. Human beings have frequently proven more compassionate than their governments: After an Icelandic (again) activist posted a photo of Syrian-Palestinian refugee Abdul Halim Attar, his sleeping daughter over his shoulder, selling pens in the streets of Beirut, a campaign to raise $5,000 for him instead raised in a few days over $176,000, or about 3,500% of its original goal; with it, Attar vowed to help other refugees.
Despite the inevitable, occasional appearance of trolls and bigots on the Icelandic Facebook page, most of those responding likewise reflected a generosity of spirit commensurate with their privilege. "I'm a single mother with a 6-year-old son," wrote Hekla Stefansdottir. "We can take a child in need. I'm a teacher and would teach the child to speak, read and write Icelandic and adjust to Icelandic society. We have clothes, a bed, toys and everything a child needs. I would of course pay for the airplane ticket." Another woman wrote from Canada, "It gets cold here, but my house is always warm and plenty of food. I have four rooms that can be used as bedrooms… I will pay for flights for 3. I can and will support them till they support themselves. My promise. Here to help."
The heartfelt response by so many Icelanders has prompted their government to rethink their stingy offer, even as residents continue pointing out the disparity between their own and their supposed leaders' actions. "What love…This is kindness, this is humanity," noted one Facebook poster. "When world leaders look away, the people won't." Most poignantly, some needy and grateful Syrians have also posted on the site. "My name is Mahmoud from Syria," wrote one, who posted a photo of his kids. "Married and have three children. Please help me to run away from death."