Yoga for Kids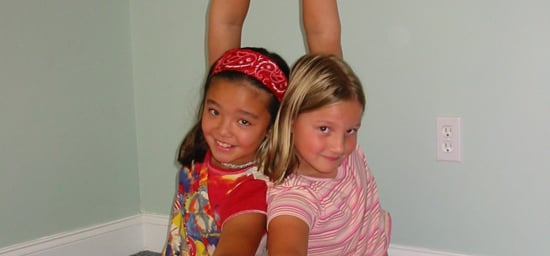 Good morning to the sun and moon
(stretch tall)
Good morning to the earth and sea
(flop down)
Good morning to the animals who crawl, swim, and fly
(come to standing)
Good morning to you
(stretch arms out in welcome)
It is never too early to begin something that is enjoyable and exciting, and children can begin practicing yoga at any age. According to Ann Kay, a certified YogaKids® facilitator, Itsy Bitsy Yoga® facilitator, and Yoga for the Special Child® instructor, yoga is a wonderful, gentle way for a child to begin building a lifelong foundation for wellbeing. Yoga helps children increase concentration, attention, strength, coordination, flexibility and muscle control. Young yoga students become aware of how the body works, enabling them to act on their own behalf in health-enhancing ways. A wonderful noncompetitive activity that allows each child to work at his or her own level, yoga builds confidence so that kids can tap into their creativity and feel more comfortable in their own body. This leads to increased self-respect and improved self-esteem. Yoga also helps children nurture an awareness of the environment and respect for the Earth and others.
The New England region is recognized as a mecca for yoga due to the presence of several ashrams and yoga teacher training centers, the variety of yoga styles available, and the level of professionalism and training held by the local yoga teaching community. Area yoga programs for children are no exception.
What To Expect
Children's yoga classes don't look like miniature adult classes. Children's yoga is taught from whole to part and involves all of the senses. Classes are usually shorter than adult programs and do not reflect the quiet contemplative nature of an inward meditative adult practice. Generally, children's yoga classes are noisy and brimming with energy, joy and fun! The best children's yoga teachers have a strong background in child development, yoga and laughter, and they truly love children. While yoga as a one time experience is fun, the greatest benefit comes from participating in an ongoing class so that children can learn to integrate techniques and skills into their daily lives, with reinforcement from parents. Most yoga studios recommend weekly classes.
Birth—age 3: Parent/child classes often help mothers recoup their bodies after birthing, and welcome the infant to be Mom's focal point, yoga companion and in some cases, prop. Child-based classes focus on the baby and toddler's exploration of yoga. These little ones learn how their bodies move, communicate, and make friends through yoga. The environment tends to support parents, deepen the parent/child bond, nurture healthy development and help parents to become conscious of the child's unfoldment.
3—5 yr. olds: Classes may be based on themes such as the rainforest, insects or down on the farm. Children will enjoy exploring yoga through storytelling, music, props, movement and creativity, while learning a variety of yoga asanas (poses) and their names.
6—11 yr. olds: Yoga is presented in a playful, fun way to children of this age. Self-expression is encouraged. Students will learn basic postures and safety, breathing techniques and proper alignment. Classes incorporate partner asanas (poses), cooperative games, group asanas, and more. Lots of fun!
Yoga for pre-teens and teens (12 and up): Yoga provides students with skills that can be adapted to school, sports and more. Students will learn breathing techniques, basic postures, safety and proper alignment while having fun. Additional activities such as journal writing and discussion may be included in this group. Classes may integrate partner asanas and group activities.
Local Offerings
With the growing awareness that yoga benefits bodies of all ages, many well established area studios and wellness centers have begun to offer classes for children and teens including Amethyst Point and Wellness Works, both in Worcester, The Arlington Center in Arlington, Serenity Yoga and Wellness Center in Bedford, and All That Matters, in Wakefield, Rhode Island. The area's first YogaKids studio, Diamonds in the Rough, recently opened its doors in Medway.
Yoga is also finding its way into children's lives through more mainstream channels and some creative new ideas. Kathy Mann of the Yoga Studio in Millis reports that yoga classes are being offered for Girl Scouts and Brownies, 4-H groups, elementary schools and in early learning centers. Jennifer Gorgone, who teaches at the Center for Yoga in Framingham, has taught children's yoga in homes, park and recreation programs, after school programs, during school as part of the physical education/health and wellness curriculum and in health and sports clubs. Yoga birthday parties are becoming a popular offering. Special events such as mother-daughter yoga programs for Mother's Day are also being offered. Fern Lee's Wellness Works Yoga Studio in Worcester, and Kundalini yoga teacher Kaye Khalsa of Golden Pathways Yoga for Children in Franklin offered some of the area's first children's yoga summer camps.
Relaxing, empowering, balancing, enlivening…fun! These are but a few of the words used to describe "Yoga for Young Ones," a unique creative movement program at The Metta Center in Spencer that focuses on cooperation, not competition, imagination, not compartmentalization, and respect for the self and the beings with whom we share this glorious planet! Programs can be a one time event or series of classes at the studio or other locations. Director Lauren Toolin has been teaching yoga classes specifically oriented toward children ages 5 and up at her center since 2000.
YogaKids, developed by Indiana's Marsha Wenig, a long time yoga practitioner, teacher, and mom, is considered the world's premier integrative yoga education program for children. YogaKids classes stress success while providing stretching, calming, and energizing techniques in a non-competitive environment. Local YogaKids facilitator Karen Cawrse explains that the YogaKids method educates the whole child using an approach that integrates the brain, mind, body and spirit while maintaining the body as the main component for education. Classes utilize Howard Gardner's Multiple Intelligences theory as a model to create positive experiences in the learning process and use Brain Gym® techniques to enhance learning. Brain balancing techniques like cross-crawl marching (left hand meets right knee and reverse), walking the plank for balance, and eye-hand coordination with chanting and word play along with the use of percussion instruments are some favorite motor skills which address learning challenges. YogaKids is a unique approach to integrative learning using yoga as a pathway or springboard to learning. By combining these brain research learning methods with the 14 YogaKids elements created by Marsha Wenig, YogaKids offers a complete form of exercise that honors and encourages the inclusion of language and creative arts, music, ecology, confidence and community.
Open Doors in Weymouth now offers a Teen Power Yoga program. Director Rich Lanza explains that after a high school swimming coach began taking classes at their Power Yoga Studio, she was so impressed with her increased flexibility and stamina that she encouraged her student athletes to attend classes. Through word of mouth, more and more teens started to enjoy the benefits of power yoga. One student wrote an article for her school paper describing her experience with yoga on both a physical and emotional level. She talked about how yoga had not only improved her ability on the playing field but also gave her more self-confidence, and diminished her self-criticism. As a result of the growing interest among teens, the instructors decided to offer some of the classes to teens free of charge. The students now have access to free yoga and the instructors have the satisfaction of giving back to the community.
A growing number of studios are now offering post-natal yoga classes. Frequently, prenatal yoga teachers like Jennie Gryczka in Watertown will welcome new mothers back with their babies for postnatal yoga. Parents get to extend the sense of community support they developed during prenatal classes, while continuing a healthy lifestyle practice.
Special Populations
Parents sometimes seek out classes to help children who have difficulty concentrating in school or at home, have behavioral difficulties, are shy in social situations, need help with self-esteem, or just need to learn some relaxation techniques. Many seemingly simple exercises to connect with the breath can benefit children with a range of disorders from ADD, ADHD, asthma, autism, and other learning disabilities. One YogaKids parent reported: "My daughter (Sara, age 6) has decreased the use of her asthma inhaler use since she learned the "beanie baby" belly breathing technique in yoga class. Not only that, but her dad and I are using this technique at bedtime to get her ready for sleep. She's falling asleep quicker and sleeping through the night more frequently, too!" Asthma sufferers may have difficulty with shallow breathing as well as anxiety. Yoga helps manage both these stressors and more.
Boys are just as interested in yoga as girls. They enjoy learning new ways to dissipate pent-up energy while building strength and stamina. Kaye Khalsa, director of Golden Pathways Yoga for Children and the new Franklin Yoga and Wellness Studio, says, "When I have boys in my classes who struggle with ADD or ADHD issues, I have found downward facing dog pose, among others, to have a very settling effect." Older boys who participate in sports find that yoga assists them in being more focused and effective when the pressure's on. Summer yoga day camp is the perfect opportunity for both boys and girls to combine yoga, art and lots of fun!
Yoga for the Special Child, by Sonya Sumar, is based in Evanston IL and provides the basic tools for teaching yoga to children with special needs. Using hands-on and video instruction, Ms. Sumar guides participants through each of the successive stages in the special child's development from infancy through adolescence. Topics include choosing the most effective yoga routine for your child, creating the optimum home and classroom environment, and working with different syndromes and disorders. Sonia started teaching yoga for children with special needs after her second daughter Roberta was born with Down's Syndrome in 1970.
At The Center for Yoga in Framingham, Jennifer Gorgone offers classes to children ages 3 to pre-teens, welcoming children of all abilities into any of their kid's offerings. Kids with specific disabilities experience the fun and joy of yoga, build self esteem, develop fine and gross motor skills, and improve their ability to focus, just as other children do in these yoga classes. Jenn's background as an elementary school teacher, special needs educator and training in education for the hard of hearing and deaf provides her with the foundation for bringing out the best in children. On the North Shore, Anne Kay also teaches special needs students.
For the Littlest Ones
Massachusetts is the home to one of the most widely recognized innovators in the field of baby and toddler yoga: Helen Garabedian. Helen is a registered yoga teacher, certified infant massage instructor and infant developmental movement educator. She is also the author of Itsy Bitsy Yoga: Poses to Help Your Baby Sleep Longer, Digest Better, and Grow Stronger. Although some yoga studios around the country have offered mommy and baby type yoga programs where the focus is on the mother practicing post-partum yoga accompanied by the child, Helen created Itsy Bitsy Yoga for infants and tots which includes over 75 yoga poses to calm and nurture babies ages birth to 2 years. Yoga benefits for babies include better sleep, improved digestion, increased body awareness, and a stronger neuromuscular system. Parents who attend IBY classes learn yogic ways to calm crying, comfort, and bond with their baby, and are more confident in their parenting skills. In infant IBY class (birth to pre-crawling), parents will learn gentle and playful yoga poses, songs and activities. In the tots IBY class (crawling to age 24 months), entertaining yoga poses are introduced with loving parental assistance to allow crawlers and one-year olds to blossom fully into their individual personalities and independence as they joyfully move in and out of their favorite yoga poses and movements. Helen also offers a Little Families Itsy Bitsy Yoga parent/child class for 2-4 year olds and their younger siblings at Earthsong Yoga in Marlboro.
Teacher Training
Teacher training and facilitator programs for children's yoga are becoming more available in New England. YogaKids, based in Long Beach, Indiana, now offers classes and teacher training in Massachusetts coordinated by Karen Cawrse. Maureen Spencer's Finding Inner Peace
Teacher Training
in Braintree frequently holds special topic workshops to interested parents who want to share yoga with their families. The Arlington Center's Tara Carey, a popular teacher of children as well as adults, also offers special workshops for teachers of children's yoga.
Color Me Yoga® For Children
Teacher Training
is a program designed by Marsha Metzger, M.Ed, which enables school teachers and parents to begin to introduce yoga to young children ages 3 to 12. The curriculum is approved by the Massachusetts Department of Education and awards continuing education credits (CEUs) for classroom teachers. The 10 hour introduction program includes yoga postures, breathwork, warm-ups and games, meditation, creative visualization and movement, songs and chants, yoga for special needs children and applications of yoga philosophy to children. Color Me Yoga teaches flexibility, self-esteem, respect, creativity, self-acceptance and community, building inner awareness and global consciousness in children. As a childhood cancer survivor and amputee, and former UN intern in Switzerland at the Center for Human Rights, Marsha now teaches others through yoga to breathe deeply and reach into the vast resources already within them.
Helen Garabedian offers a comprehensive and developmentally-sound baby and toddler yoga facilitator training with the Itsy Bitsy Yoga teacher training. Local graduates offer her Itsy Bitsy Yoga program in a growing number of communities. Itsy Bitsy Yoga facilitators create a supportive environment that helps parents bear witness to and support the unfolding of the deep parent/child bond and a baby's optimal development through yoga.
More Information
Many studios welcome the prospect of offering children's yoga and invite inquiries from interested families. Cathy Mann of The Yoga Studio in Millis suggests that it can help a great deal if parents can find a compatible group of friends who have similar interests and are available to take a class together. Readers can also contact the Massachusetts Yoga Network at http://www.massyoga.com for more information about yoga for all ages and their free workshops. See the listing of individual practitioners, studios and training programs for children's yoga on the next page.
Thanks to the many dedicated members of the yoga community who contributed to this article