Yoga Music Boom Bliss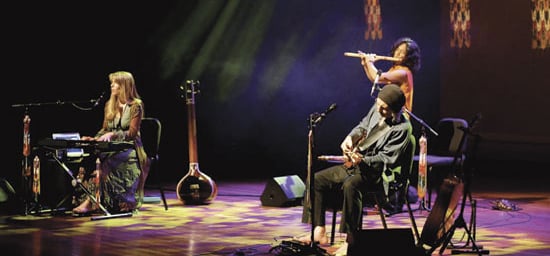 In recent years, Yoga has become a huge phenomenon in the United States and indeed, in many parts of the world. Yoga Journal in a 2012 study indicates that 8.7 percent of U.S. adults, or 20.4 million people, practice yoga, an increase of 29 percent in 4 years. Of current non-practitioners, 44.4 percent of Americans call themselves "aspirational yogis"—people who are interested in trying yoga.
Yoga music and kirtan (chanting mantras in a call and response setting) have closely followed the development of yoga practice. Originating in India, yoga music and singing Sanskrit mantras have taken a new contemporary twist with western musicians and are becoming more mainstream presentations. Instrumentation usually includes the traditional harmonium and tablas. Modern kirtans include these and more — the addition of keyboards and guitars and even synthesized music as well as DJ and reggae elements have been incorporated into the music.
Kirtan practice is experienced in many yoga studios, meditation and retreat centers, small scale house concerts, as well as in large concert halls with bigger name artists performing full length shows. A myriad of festivals presenting kirtan and yoga music are also gaining in popularity and number. The audience is as diverse as those who practice yoga — teenagers to the elderly, from all walks of life. The power of listening and singing Sanskrit mantras is a deeply healing and beautiful experience that feeds one's search for change and well-being.
Deva Premal and Miten's albums of Sanskrit mantras top New Age charts on Amazon and iTunes, with global sales in the millions. Their fans include not only Hollywood luminaries, but also health professionals, hospice workers, midwives, and trauma counselors helping war vets and firefighters, all of whom have found solace in their music. Even the Dalai Lama has sung their praises after inviting them to play at a private audience.
"Mantras support us through every challenge," says Miten. "Our mission is to share this powerful healing tool with the world. And we know that this is a mission we share with other musicians in this genre."
Deva refers to her fans as fellow travelers sharing a spiritual journey to the same destination. "Many of us have really worked a lot on ourselves. We've done therapy and groups and now it feels like it's time to bypass all that and go straight to the point of joy and silence."
Miten adds, "We're exposed to so much sadness and pain and violence in the world and I know that whenever I'm scared, if I sing, then I'm not scared. To be in a theater with a thousand people, all chanting together, you cannot avoid an uplift of spirit. People leave in a joyful space."
For the past six years, Deva and Miten have had the pleasure of collaborating with Manose, the internationally renowned bansuri (bamboo flute) maestro and one Nepal's top recording artists. The founder of the rock group AD1974, Manose is part of the world music movement, merging genres, traditions and sounds, while at the same time, introducing traditional Nepalese music to new audiences.
Today, chant and popular culture are joining together more and more, as seen in the growing attendance at music and yoga festivals across the country. In June of 2008, the music industry was star-struck to watch the recording by a group of German monks singing Gregorian chants skyrocket to top the iTunes and Billboard charts.
Deva and Miten love that the music they have been quietly creating for 21 years is reaching wider and wider audiences. They anticipate their new album, A Deeper Light, will continue to unlock the secret of mantras for an entirely new generation, eager to engage with their inner technologies. The new album expands on the chant tradition that couples Miten's lush arrangements by a group of young jazz artists, with Deva's rich vocal tones. The jazz players bring a fresh sensibility and interpretation to Deva and Miten's signature sound.
To celebrate the release of A Deeper Light, Deva Premal and Miten will be touring North America with another icon of the mantra-music phenomenon: The GuruGanesha Band. Their MantraFest 2013 Tour kicks off September 10 including stops in Medford, MA, at the Chevalier Theatre on September 18, and Bridgeport, CT, at the Klein on September 19.
For information on concert locations and tickets visit BrightStarEvents.net.