Zero Waste Programs Conserve and Recover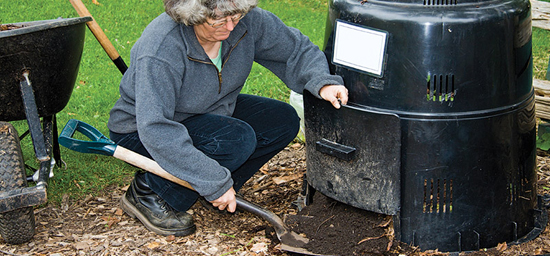 We live in a throwaway society that burns or buries millions of tons of waste a year with dire consequences to public health and the environment. Money and resources are squandered while citizens suffer. Although policy makers and waste company representatives argue that we have no choice and that we'll always need landfills and incinerators, we do have a safer, economical and more sustainable choice: Zero Waste.
What is Zero Waste? According to the Zero Waste International Alliance website (www.zwia.org): "Zero Waste is a goal that is both pragmatic and visionary, guiding people to emulate sustainable natural cycles where all discarded materials are resources for others to use. Zero Waste means designing and managing products and processes to reduce the volume and toxicity of waste and materials, conserve and recover all resources, and not burn or bury them. Implementing Zero Waste will eliminate all discharges to land, water or air that may be a threat to planetary, human, animal or plant health."
The following communities have been successfully practicing Zero Waste for several years. Since their adoption of these principles, Nantucket Island, the Central Vermont Solid Waste District and San Francisco are well on their way to reaching their goals.
1.) Nantucket has been diverting 90% of its trash per year from the waste stream since implementing extensive recycling and composting programs back in 1998. All residents are required to bring their recyclables and organics to the local facility that uses a bioreactor to compost organics in a matter of a few days. Furthermore, Nantucket implemented a strict wood ban, so no C&D (construction and demolition) waste is processed. (www.wasteoptions.com/nantucket.htm)
2.) The Central Vermont Solid Waste Management District now diverts 49% of its waste from landfills and incinerators per year, up from 32% in 2004. The district has achieved this not only through recycling efforts, but also by focusing on its business and school organics program that composts 678 tons/year of food scraps from businesses and 57 tons/year from area schools. This comprises about 40% of their solid waste stream. (www.cvswmd.org)
3.) San Francisco's diversion rate is at 72% up from 35% in 1989. This rate is achieved through recycling/composting pickup programs available to all residents, businesses and city government. San Francisco has enacted a pay-as-you throw program, mandated the recycling of C&D waste, and implemented bans on several products, most notably plastic bags. In order to attain its absolute Zero Waste goal by 2020, the city plans to pass legislation to increase producer and consumer responsibility. (www.sfenvironment.org)
Zero Waste is about pragmatism, flexibility and sustainability. Every community is different, so every community's waste problem is different. Municipalities, counties and states must therefore reach for the tools that best suit their unique needs to effectively implement Zero Waste and reach maximum resource efficiency. These tools fall into five different categories:
1. Reduce consumption. A penny saved is a penny earned. Likewise, a bag or cup saved is one that doesn't have to be recycled, burned or buried. More frugal habits can be encouraged by good policies. Pay-as-you-throw and other programs that reward frugality change consumption patterns almost immediately.
2. Reuse. In the era of Craig's list and Freecycle networks, individuals are finding new ways to pass on goods. These efforts take on a much larger dimension when institutionalized. Take-it-or-leave-it programs at recycling centers, clothing swaps like those held at the Central Vermont Solid Waste Management District and other organized reuse programs can keep millions of pounds of "waste" out of a landfill or incinerator.
3. Recycle. Not only do individuals need to be committed to recycling, but also citizens need to hold their municipal, county and state governments to a higher standard. For instance, Massachusetts has a ban on paper going to landfills and incinerators, but it is not enforced.
4. Compost. Roughly 50% of the waste stream is made up of organics such as food scraps. The existence of these organics in the waste stream creates methane, a toxic greenhouse gas. Composting, if done correctly, eliminates methane releases almost entirely. Furthermore, composting replenishes our supply of soil, another crucial resource. Composting can be done regionally, in anaerobic digesters that capture the methane released, or locally in backyard green cones or compost bins or piles.
5. Extended Producer Responsibility. Manufacturers change the manner in which they do business when their old habits become unprofitable. The best way to reduce excess packaging or toxicity in products is to make the manufacturer responsible for the cost of disposing of the product. Bottle bills do this to some extent, as do e-waste laws that require manufacturers to take back electronics for reuse, recycling or disposal.
We are in the midst of a watershed in American history. We, as a society, are proving our willingness to abandon old prejudices and ways of doing business. We need to continue in this vein and enact policies that work, not policies that benefit a few waste companies to the detriment of our public health and economy. Zero Waste fosters policies that could transform our culture and encourage respect, stewardship, and advocacy. We must respect the rights of others and ourselves and stop allowing toxins to trespass into our bodies, onto our lands and those of our neighbors. We must respect the limits of our natural world and steward our resources. Just as nothing in nature is wasted, we, as part of the ecosystem, cannot continue to squander our resources with impunity. We must advocate for public policy that honors and conserves natural systems, not only because it is the right thing to do, but because it is the most cost-effective and practical choice as well.
You can take steps in this direction by making your voice heard and emailing your state environmental agency today. Here's a sample statement:
"Zero Waste offers a safer, practical and more economical alternative to incinerators and landfills. It is time to stop squandering our natural resources and recover them for the sake of our health and planet. I ask you (insert name or agency name) to consider adopting a Zero Waste plan for our state today!"
Massachusetts: DEP Commissioner Laurie Burt:
madep.commissioner@state.ma.us
Vermont: DEC Acting Commissioner Justin Johnson:
Justin.johnson@state.vt.us
New Hampshire: DES Commissioner Tom Burack:
Thomas.burack@des.nh.gov
Maine: DEP Commissioner David Littell:
david.p.littell@maine.gov
Connecticut: DEP Acting Commissioner Amey Marrella:
amey.marrella@ct.gov
Rhode Island: DEM Director Michael Sullivan:
Michael.sullivan@dem.ri.gov.
Kirstie Pecci, Esq., is currently representing 300 citizens who are opposing the expansion of the Southbridge landfill in Southbridge, MA. Sarah Goodwin is an engineer who is working closely with Residents for Alternative Trash Solutions (R.A.T.S.) to implement local and statewide solutions to Massachusetts' waste problem. They can be reached at info@southbridgedump.org. Learn more about local Zero Waste initiatives at the Natural Living Expo, Sept 26-27 in Sturbridge, MA at the Host Hotel. See the full program guide online at www.naturalexpo.org.