10 Grassroots Activism Victories in 2013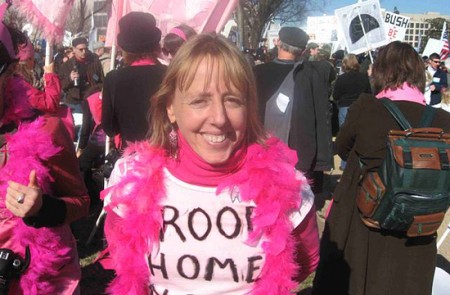 While we surely hear enough of the bad news happening around the world, Code Pink co-founder Medea Benjamin finds plenty of activism success in 2013 to celebrate.
Code Pink: Women for Peace is a grassroots peace and social justice movement working to end global militarism and redirect our resources into health care, education, green jobs and other life-affirming activities. You will see their high-profile protests, marches and headline-grabbing publicity stunts in courtrooms and other public arenas where their members wearing the group's signature pink color draw media attention to such pressing issues as ending war, worker's safety and rights, environmental protection, immigration reform, killer drones, gay rights and more.
If anyone knows about the front line efforts, arrests, failures and victories of determined grassroots activism, it's Benjamin. Here's her list of successes in 2013, shared via CommonDreams.org, a progressive news source agency.
1. Spontaneous public outcry keeps the US from a September invasion of Syria.
2. Diplomatic progress with Iran moves past "axis of evil" stand-off, despite Israeli protest.
3. Edward Snowden blows the whistle on NSA domestic and international spying.
4. International community stands up to killer drone proliferation.
5. The Pope questions the morality of capitalism and injects new spirit into the Vatican.
6. "Low Pay Is Not OK!" chants increase pressure on Congress to raise the federal minimum wage above $7.25 per hour. Minimum wage is increasing in 13 states beginning Jan 1, 2014.
7. Immigrant advocates with their proven significant voting power stand ready to see major changes in US immigration policy in 2014.
8. Supreme Court rejects DOMA (Defense of Marriage [anti-gay] Act) and Illinois becomes the 15th state to legalize same-sex marriage.
9. The number of people executed in the US declines to 39; Maryland becomes the 18th state to abolish the death penalty, first state south of the Mason-Dixon line.
10. Uruguay becomes the first country in the world to fully legalize marijuana; US federal government declares it will not challenge WA and CO state laws legalizing recreational marijuana use.
Carol Bedrosian is the publisher of Spirit of Change holistic magazine. Visit www.spiritofchange.org.