7 Tips for Sustainable Holiday Celebrations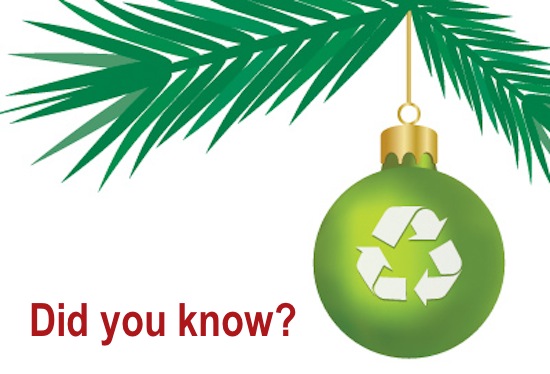 If every family reused just 2 feet of holiday ribbon, the 38,000 miles of ribbon saved could tie a bow around the entire planet!
According to one U.S. Department of Energy study, if everyone replaced their conventional holiday light strings with LEDs, at least two billion kilowatt-hours of electricity could be saved in a month. This would be enough to power 200,000 homes — for a year!
The 2.65 billion Christmas cards sold every year in the US could fill a football field ten stories high! If all of us sent one card less, we could save 50,000 cubic yards of paper.
If every American family wrapped just 3 presents in re-used materials, it would save enough paper to cover 45,000 football fields.
During the holiday season, Americans throw away an additional 5 million tons of trash– 25% more than usual, between Thanksgiving and New Year's Eve! Here, we outline some our favorite tips for avoiding waste and celebrating locally this season.
#1 Purchase your holiday meal from local farms: Turkeys, ham, fish and produce can all be purchased sustainably during the winter season!
Also, avoid disposable products when entertaining guests. If you have to use disposable plates and napkins, consider products that are compostable or are made from recycled materials.
#2 Ditch Black Friday and celebrate Plaid Friday, instead! Plaid Friday came from the idea of weaving the individual threads of small businesses together to create a strong fabric that celebrates the diversity and creativity of independent businesses. It's a fun & enjoyable alternative to the big box store Black Friday, and is designed promote both local and independently owned businesses during the holidays.
Participating in Plaid Friday free and easy. Just download the logo, placard and FB banner to use in marketing and Social media. Connect with your customers and let them know you will be open on November 29th. Why not offer something fun on that day, beverages, music, discounts, you decide! And make sure to wear your best plaid!
#3 Gift Green. Choose durable, long-lasting items made with earth-friendly materials that are energy-efficient, and have minimal packaging. Best of all is to give the gift of experience, i.e. items that don't cause any waste at all! Consider things like concert tickets, dinner, homemade gifts, or items that get used up like food, candles, soap, etc.
#4 Use Energy-Saving LED Holiday Lights: Love to deck the halls with lights? Look for lights made with LEDs, which are 90 percent more efficient than traditional lights, and can save your family up to $50 on your energy bills during the holiday season.
#5 Make Your Own Decorations: Make eco-friendly decorations such as strung popcorn, decorations made of pine cones, homemade candles, and wreaths made from evergreens and other natural materials. Another option? Invite your guests to bring items from their home to decorate the party with! It will create an interactive and eclectic holiday atmosphere.
#6 Use Wrapping Paper That Can be Recycled or Reused: Most mass-produced wrapping paper is not recyclable and ends up in landfills. Instead, wrap presents with old maps, the comics section of a newspaper, or children's artwork.
#7 Try a Potted or Pesticide-Free Tree: Demand is on the rise for potted Christmas trees that can be planted after the holidays and Christmas trees that are not covered in chemicals; some growers use 40 different pesticides, as well as chemical colorants. And make sure to recycle your tree when the holidays are over.
The Sustainable Business Network of Massachusetts is building economies that are local, green and fair. For sustainable business ideas and membership information visit www.SBNMass.org.
Find holistic Green Living in the Spirit of Change online directory.