A Love Story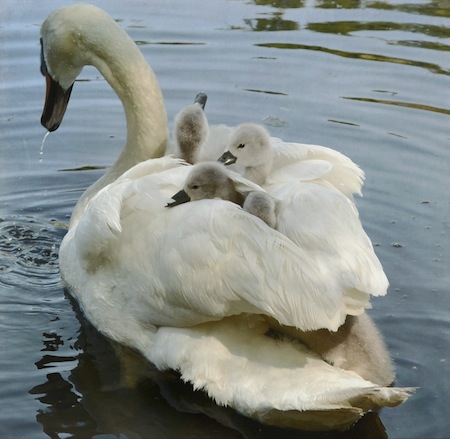 William and Bella nest at the Grist Mill pond in Sudbury, although the nest is technically on the Marlboro line, LOL. Waaaay at the end of the pond, where no humans ever go. How did I find it? It's a mystery. Something to do with love.
The first outing of these little ones was last week, although I saw that some of the cygnets had already hatched, very far away from the edge, where I couldn't go, and wouldn't, probably, even if I could. It's so intrusive. But I would love to sit right next to them on the nest! William wouldn't mind, but Bella would.
They hatch not all at the same time, so she must wait for everyone to arrive, and I have been waiting not so patiently, it seems, for 40 days and 40 nights. It's of Biblical proportions, the waiting for new birth. A blessed event in my little corner of paradise!
Last year William and Bella made a nest on the little island behind Stephen Anthony's restaurant and something disturbing happened (there was a man in a boat by the island.) Bella not only left the island, the nest and the pond, she left William! William went across the road to the Grist Mill and I fervently prayed one day Bella would calm down and return — he was so sad without her. It broke my heart. Bella is his fourth partner. Sophie was killed by a coyote, my best guess. Lily was drowned by a bully. Angel, Coyote, and now Bella, please stay safe, sweet friend!
William is getting on in years. I can't say exactly when I first became smitten with him, but it's close to 20 years. In the wild, most Mute swans don't live quite so long, but he has a friend who brings him warm oatmeal in winter.
It's a miracle that Bella returned, and found William, not where she had left him! It's a miracle that four healthy cygnets have arrived. It will be a miracle if all four reach adulthood, with so many predators and a snapping turtle who finds their tiny legs a tasty snack.
Grist Mill Pond has been fighting a battle with highly invasive water chestnut, which not only is ugly but covers the pond like a playing field so there's no open water for the swans to move or feed. I've recently met a couple who live on the pond and started the Hop Brook Protection Association. It's very expensive to dredge and harvest the ponds and they are always grateful for support of any kind. I've been yanking and pulling it by hand all these years, but alas, I'm only one small woman.
I love having them in my life. They give wings to all the wishes in my soul. This, from a childhood where I refused to wish, because it seemed so pointlessly cruel to hope for more.
Lori McCray is a poet, photographer and devoted swan patron in Marlboro, MA. Contact Lori at mccray.lori569@gmail.com or view her photo website at http://www.flickr.com/photos/wingthing/.