Amazing Wrap Sandwiches Are Portable, Delicious Nutrition — Day or Night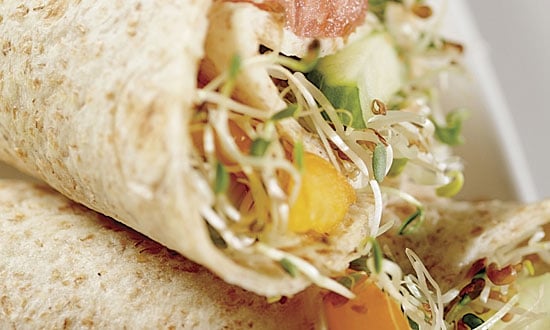 I've been eating a plant-based, high percent raw vegan diet for the past 12 years. I'm an advocate for a middle-approach to healthy eating. This means balance and balance will not come by eating extreme diets. I love to give tips and tricks that make it easy to add more healthy and delicious recipes to your diet that will win over your taste buds and your family members' as well.
Food has a special power to bring people together and to make them feel healthy and vibrant. People with diabetes, candida, cancer, food addictions, allergies, sensitivities and other special dietary needs all benefit from learning how to use food as medicine for themselves.
The past few nights I've been enjoying wraps for dinner. They are deliciously flavorful, even with substitutions within the recipes. I am a big proponent on using what you have. Most of these recipes are great just about any way you make them. If you have any questions, please email me and I'll be happy to answer them as best I can!
Why are wraps so nutritious? These wraps have got everything going for them: plant-based, whole food nutrition that is packed with micronutrients, which heal us naturally and easily. To begin, we have greens as a good part of this meal. Greens provide incredible nutrition including iron, calcium, and protein, vitamins A, C and sometimes K, to name a few. Greens act as natural anti-inflammatories for our bodies. Remember to vary your greens! Vary your whole diet, actually. Don't get stuck on just a few things in your diet. Try everything.
Sprouted grain tortillas are hearty, chewy and provide whole grain nutrition. They are less processed than the white flour tortillas that we are used to. If you were to use the collard greens instead of the sprouted grain tortillas, your wrap would be something like 10 calories and you would get a powerhouse of nutrition similar to kale. (Don't worry about the collard leaf being too thick or bitter, it works great for a wrap and softens because of the ingredients inside it.) If you choose to use a whole wheat tortilla, make sure the ingredients say "whole ground wheat" instead of "unbleached flour." Whole ground wheat is the least processed form of flour aside from sprouted grain products on the market.
If you use seaweed in your wrap — and I hope you do! — you get added vitamins and minerals added to your plate and a great taste, too. Dulse is probably the mildest seaweed out there, in my opinion, and a little goes a long way. Dulse is high in iron, potassium, calcium, B, A, C, E, fiber and protein, to name a few. Dulse helps to pull toxins and heavy metals from the body. Dulse is a great source of iodine, which is good for vegetarians and vegans who choose not to use iodized salt. For those of you who want some added taste of salt without actually adding salt, seaweed is your best choice. There's a lot of tasty seaweeds out there and they are great for the body, so give it a try if you haven't already done so.
Sprouts and microgreens. Well there's just too much to say about sprouts and micro greens. These are essentially the same thing, mind you. Microgreens are sprouts that are grown in soil and they are packed with nutrition. Because sprouts are baby plants, they are easier to digest and assimilate in the body. Sprouts, when made fresh and at home, cost pennies on the dollar and nobody can tell you that eating healthy costs too much when you grow your own. Growing/eating green sprouts also ensures that we can have access to the freshest greens all year round.
Cooked or sprouted lentils. Whether you eat these cooked or sprouted, you are getting a great legume that gives extra protein and something satisfying for your belly. For those that say that they can't survive on eating just plants because they never feel full, I'm here to tell you that by adding nuts, seeds, sprouted grains and/or cooked or sprouted legumes, you will feel fuller and more satisfied than just eating greens, root veggies and fruit alone. Lentils are a good source of iron and protein. 1 cup of cooked lentils has 18 grams of protein and that's not shabby!
Everything else on the list below is just delicious icing on the cake, as far as I'm concerned. If I can give you a recipe or two that is amazingly delicious made with minimally processed, whole food that you can make in minutes, I believe I am doing a good thing in my life. The RAWking A1 Sauce is so easy to make and it's mostly made with fruit and vegetables. The marinated veggies give you a way to have the taste and texture of sauteed vegetables without cooking.
These recipes are easy, incredibly delicious and require very little skill in the kitchen. You literally have to just put the ingredients in a blender and turn it on. Then you assemble the wrap and you have something delicious to eat any time and anywhere. These wraps can be pre-made so that you can make them the night before and take them to work with you.
Wrap Ingredients
Sprouted grain tortillas, or use collard leaves if you want to try 100% raw. Also feel free to substitute with gluten-free tortillas or whole wheat if that works for you.
Whole dulse
Micro greens include any green sprouts grown in soil instead of water such as sunflower, peas shoots, radish greens, broccoli sprouts
Cooked lentils, or use sprouted lentils if 100% raw. Feel free to substitute with cooked mung or black beans, etc.
Green olives, stuffed or unstuffed
RAWking A-1 sauce (see recipe below)
Fresh basil
Fresh tomatoes (optional)
Baby spinach (optional)
Marinated veggies (see recipe below)
Follow the photo assembly instructions you see in these photos. Please note that the marinated veggies are not in these photos so use your imagination!
RAWking A1 Sauce
I am honest when I say that I never really enjoyed the bottled stuff but this recipe is the bomb. This recipe makes almost 2 cups of sauce so it lasts for a while in the fridge.
5 dates, pitted (medjool dates are the best)

1/4 cup sun dried tomatoes (not in oil)

1/2 apple
1/4 cup coconut nectar (or substitute 1/8 cup honey)
2 cloves garlic

1 T blackstrap molasses

1/4 tsp horseradish, powdered or minced

1/2 tsp Himalayan salt

1 pinch ground cloves

1/2 tsp rosemary

1/3 cup olive oil

1/3 cup apple cider vinegar

1 lemon, peeled and deseeded
Blend all the ingredients in your blender. Scoop out into a container and refrigerate. If this makes more than you want to use, immediately take half and freeze it for later use. Serving suggestions: Add this to the wrap or serve over cauliflower "rice." Simply process cauliflower in the food processor until it resembles a "cous-cous" like appearance and serve.
Marinated Veggies
This is so delicious, I can't even stand it. I take sprouted grain tortillas and fill them with salady stuff (lettuce, carrots, etc.,) and this recipe.
6-8 oz portobello mushrooms, washed and thinly sliced
1 red bell pepper, deseeded and thinly sliced
1 small onion, peeled and thinly sliced

1/4 cup olive oil

1/4 cup lemon juice

1/4 cup shoyu
 sauce
1/4 cup coconut nectar

1 tsp garlic powder

1 tsp Italian seasoning

1/2 tsp cumin

pinch of Himalayan salt
Add the first three ingredients to a bowl and set aside. Put all marinade ingredients in a blender and blend until smooth. You can also put into a sealed container with the lid securely on and shake it to blend together. Cover the veggies with the marinade and let sit so the flavors can marry and the veggies can soften.
You can pre-make this recipe and leave the veggie marinade in the fridge overnight. The longer you let the veggies sit, the softer they become, but the minimum sitting time would be about 15-30 minutes. (In other words, don't let the time to let the veggies set keep you from making this recipe. Even the crispier veggies tastes delicious.) The marinade makes a great dressing as well. Happy eating!
Linda Wooliever is a healthy food chef and educator, teaching people how to live their best, most juicy life through delicious nutrition. She is the owner of Vermont Fiddleheads in Worcester, VT and runs an online business manufacturing the best nut milk bags on the planet. Visit www.vt-fiddle.com or call (802) 223-2111. Email Linda your food questions at linda@vt-fiddle.com.