And Live Rejoicing: Chapters from a Charmed Life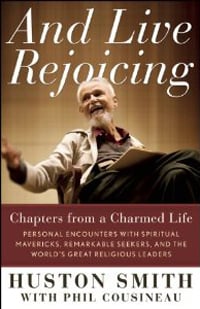 Huston Smith with Phil Cousineau
And Live Rejoicing: Chapters from a Charmed Life
2012. New World Library, Novato, CA
Carpe diem. "Seize the day." A well-known expression. But there's a second half: "Rejoice while you are alive." Huston Smith, considered the world's greatest living scholar on comparative religion, tries to do both. And Live Rejoicing celebrates his 92 years of wonder and delight encountering the human spirit. Smith's remembrances include rousing vignettes of time spent with Zen scholar D.T. Suzuki, novelist Aldous Huxley and contemplative Thomas Merton, among many others.
So infused is his personal life with love and compassion, Smith admits he was taken aback on his last day of college when his roommate revealed, "Huston, did you know that every morning for the past four years when you woke up your first word was always 'Good!'?"
Devoid of hubris a scholar of his notoriety might posses (he insists there are numerous professors who are better scholars than he), Smith acknowledges his "chief forte" is communication. His gift is revealed as he teaches a third grade class while sitting on the floor to "do religion the way they do in Japan." He also successfully meets His Holiness the Dali Lama's request for information on the big bang theory and DNA. Smith explains he was a philosophy professor at MIT when he visited Dharamsala, and his calling card carried the words Massachusetts Institute of Technology in the corner. The scientifically minded spiritual leader of the Tibetan people noticed this and "thought he had a real live scientist in his living room." His Holiness wondered if DNA had any bearing on reincarnation. He concluded it does not.
Smith's extensive travels and studies highlight many of the world's religions that have long been ignored. His time among indigenous communities, such as Native Americans and Australian Aborigines, attests that these people are not historical novelties of some bygone era, but living cultures whose traditions continue to shape lives. Through conversations with Australian anthropologists he found them "unanimous in their conviction Aborigines have telepathic powers." He finds Native American people retain what nonindigeneous people of North America have lost — the reverence and passion for the web of life, values and knowing what's important, and seeing the infinite in the finite. Additionally, "we have lost our way metaphysically, which is to say, we have lost sight of the Great Chain of Being with its multiple levels of reality."
Deeply grateful for what he fondly refers to as his "love affair with the world," Smith agrees with Vietnamese Buddhist monk Thich Nhat Hanh on the real value of pilgrimages: "They help us see, upon our return, that our own backyards are also sacred ground."