Backyard Wild Spring Greens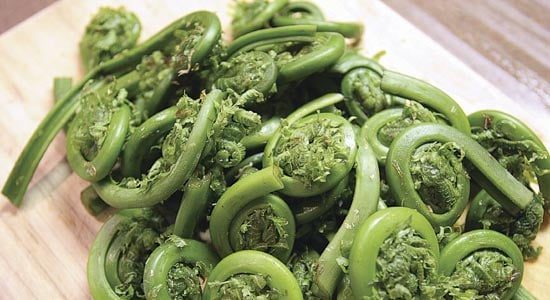 As I write this, it is far from spring. The days are still short and the ground is covered in snow and ice. Spring will come, though — one day soon — and when it does, we'll have the promise of so many gifts, such as longer days, more sunshine and the start of fresh greens that spring up from the earth.
For many of us in New England, when we think of spring we get excited to see seed catalogs and start planning our spring gardens in February. Maybe we'll even start growing seedlings in April and May just to get them into the soil. Gardens provide so much to so many. However, there's an abundance of edible food available very soon after the snow thaws, even without benefit of a garden!
With the spring comes the gift of wild edibles. You can find edibles around you everywhere, even in the cities if you are careful about the quality of the soil. So, if you live in a city, take an afternoon for your mental health and get thee to a less populated area with lots of grass and trees.
In fact, if you want to find the most edible food, go to places where the people are. This means your very own lawn is cultivating good eats for you (if you aren't spraying it with chemicals!) Just like the self-healing mechanisms that constantly regenerate our bodies, nature heals itself of lawns and fields that are continually cut and cleared by giving life to amazingly abundant wild edibles that grow in these spots. Another place to look for wild edibles is along creeks and wooded areas, as well as the sides of roads with little traffic, where vehicle exhaust would be minimal.
When I think of wild edibles, I imagine how much more potent they must be to be able to grow on their own and survive the outdoor elements, wild life — and human life, too! When I eat these goodies, I know am eating highly nutritious food that is denser in vitamins and minerals than many conventionally grown vegetables. Source your backyard or neighborhood (or just visit your grocery's produce department!) and try adding some of these fine spring wild edibles to your diet this year for sustenance and good health. If you'd like to begin wild harvesting, check out this website to get photos of these and many more wild edibles: www.ediblewildfood.com/edible-weeds
NETTLES is a very potent edible that can be found in shady spots, near water or around farm lands. Use gloves when you pick them because the leaves will sting you, but please don't let that stop you from consuming this great green. I could write a whole article dedicated to nettles. They are great for helping to create and maintain good health in people. They help with inflammation and when used as a tea, provide iron and other minerals as well as B vitamins (which help us in this very stressful world) and nettles have protein! Nettles can potentially help to lower blood pressure and can be used in soups and other dishes as you might use spinach or baby kale. When you cook nettles, the stinging goes away. Here's a recipe for a frittata using nettles instead of spinach.
Nettles Frittata
1/4-1/2 lb nettle leaves, washed and chopped
1-2 cloves garlic, minced
1 Tbs olive oil
6 duck or chicken eggs
1/4 cup regular or non-dairy milk (unsweetened)
pinch of salt
pinch of cayenne pepper
water (to steam the nettles)
Using water, steam cook the nettles in a pan along with the garlic. Add the olive oil after the heat has been turned off. Set aside. Whisk the other ingredients in a bowl and then add the garlic/nettle mixture. Stir together and then add to an oven-safe skillet or pie dish and cook in a preheated 350º oven for about 12-15 minutes. Serve and enjoy.
DANDELION. We all know those happy yellow flowers that overtake our yards, so much so, that people have a veritable war on them each year. Dandelion, though, has a lot of value to offer and it's my hope that we can learn to be a little more at peace with these wild weeds. These little flowers help the bees by providing abundant pollen in the early spring. Young dandelion leaves are loaded with minerals, like calcium and potassium, and vitamin A. You can eat the leaves raw or lightly steamed and it's best to eat them young as they are less bitter tasting then the mature ones. Dandelion root can be used in teas and tinctures to help the liver and kidneys and the flowers can be made into a wine.
Dandelion Pesto
1 cup raw pumpkin seeds
3-4 cloves garlic, peeled
1/4 cup pine nuts
2 cups young dandelion leaves
2 Tbs lemon juice
1/4 cup olive oil
1 tsp sea salt
In a high-speed blender like a Vitamix, put all ingredients in and start at a low speed then move to high. Use the tamper tool if needed to push down ingredients safely to the blades. Blend for about 30-40 seconds or until well blended. Scoop out into a container and keep in fridge. Serve over fresh pasta, as a spread on sandwiches or as a dip for crackers or vegetables.
WOOD SORREL is a sour-tasting edible plant that is high in vitamin C. It is known to help with reducing fevers and easing urinary infections, stomach aches, nausea and sore throats. Sorrel needs to be eaten in small quantities, particularly if you have issues with gout, kidney stones or rheumatism due to its high oxalic acid content, which is also found in many other greens like broccoli and spinach. The tip to remember is that greens are potent, tasty and good for you but for the best health, vary your greens! Wood sorrel, which looks very similar to clover, is found in wooded areas and can be added to fresh salads or sautéed and used in other vegetable and rice side dishes. Many people will sauté and eat with cooked fish, as the lemony flavor of this wild edible gives a nice flavor to your food.
Wood Sorrel Pesto
1 cup raw walnuts
2-3 cloves garlic, peeled
1/4 cup pine nuts
2 cups fresh wood sorrel leaves
1/4 cup olive oil
1 tsp sea salt
In a high speed blender, put all ingredients in and start at a low speed, then move to high. Use the tamper tool if needed to push down ingredients safely to the blades. Blend for about 30-40 seconds or until well blended. Scoop out into a container and keep in fridge. Serve over fresh pasta, as a spread on sandwiches or as a dip for crackers or vegetables.
PLANTAIN is very commonly found just about anywhere people have walked — lawns, fields, even sidewalks! Plantain has many astringent properties and is most widely used topically as a poultice to help with insect bites and bee stings. Just chew a few leaves and apply directly to the wound. Plantain has been used in teas and tinctures to help the kidneys, lungs and liver. Interestingly enough, the young leaves can also be eaten in fresh salads or sautéed.
Wild Edible Greens Sauté
8 cups wild greens (plantain, sorrel, dandelion, lambsquarters, fresh mustard leaves)
1/8 cup roasted sesame oil (try the hot kind for a good kick)
2-3 cloves garlic, peeled
1/8 cup wheat-free tamari
1/8 cup fresh orange juice
1/8 cup slivered almonds
Sauté greens in the sesame oil on medium heat for 2-3 minutes. Then add remainder of ingredients and stir together. Remove from heat quickly and serve.
WILD LEEKS (also known as Ramps) are highly coveted here in VT. Many people will not share where their prized stashes can be found. Wild leeks are like potent and delicious onions. Both the leaves and bulbs are edible. They are rather sharp-tasting and quite strong when raw, but when you cook them, they have an absolutely delicious sweet and mild oniony taste. Add them to any of the recipes in this article for a flavor boost. Cook them and add to rice or veggie dishes for a satisfying meal. Ramps are typically found in wooded areas close to streams and other wet areas. If you harvest them, only take a few at a time so that they can come back for more good eats next year. Wild leeks are mildly anti-inflammatory and are good sources of vitamins A, C and K as well as selenium and chromium.
FIDDLEHEADS. I have to end with fiddleheads because I love them so much that I named my business after them. Fiddleheads are little spiral baby tops of the ostrich fern plant. They are around for only about 2-3 weeks in mid to late spring. Again, you want to pick a few and leave some. They can be found in wooded areas and are very mild tasting. Typically, fiddleheads are boiled first and then cooked in other sauces. You want to rinse them well, removing any skin that might be on them, then boil them for 10 minutes. Take them out of the water and add to whatever sauce you'd like. Many people will eat them in butter and garlic sauces or pickle them for a fun treat later in the year. They are described as tasting similar to asparagus but I personally find their taste uniquely their own. Fiddleheads are a good source of fiber, vitamins C and A, and even have omega-3 fatty acids in them.
Tasty Fiddlehead Sauce
2-3 cups fiddlehead ferns, washed and cooked, set aside
1 cup raw tahini
1/4 cup of your favorite miso
1/4 cup lemon juice
4-6 cloves garlic, peeled
1 tsp ground cumin
good pinch cayenne pepper
1/2 cup water
In a Vitamix or other high-powered blender, add all ingredients except the fiddlehead ferns and blend on high to make a beautiful tahini sauce. Pour over the fiddleheads and heat in a saucepan. Pour over cooked rice or your favorite pasta. This recipe makes a nice change to the usual ways to eat fresh fiddleheads.
Linda Wooliever is a healthy food chef and educator, teaching people how to live their best, most juicy life through delicious nutrition. She is the owner of Vermont Fiddle Heads in Worcester, VT and runs an online business manufacturing the best nut milk bags on the planet. Visit www.vt-fiddle.com or call (802) 223-2111. Email Linda your food questions at linda@vt-fiddle.com.