Book Review | Plant Spirit Medicine: A Journey into the Healing Wisdom of Plants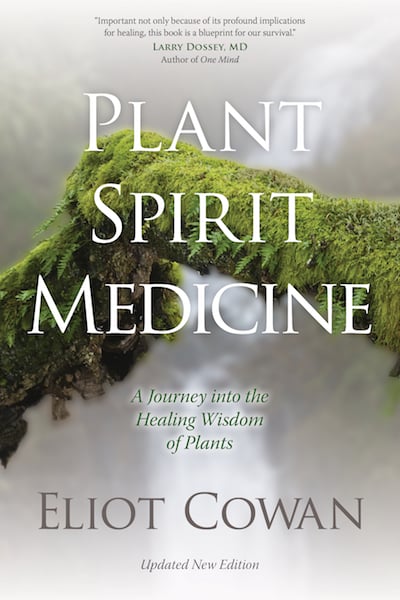 Eliot Cowan
Plant Spirit Medicine: A Journey into the Healing Wisdom of Plants
Sounds True, Boulder, CO 2014
Healing with plants is a universal medical tradition. According to renowned teacher acupuncturist J.R. Worsley, "Anything that can be done with needles can also be done with herbs. But," he emphasizes, "if you use herbs, for God's sake, use local ones because they are one thousand times stronger than plants that grow someplace else!" Heeding his teacher's advice, Eliot Cowan pledged to make his life's work the revival of using local plants to heal the spirit. Plant Spirit Medicine: A Journey into the Healing Wisdom of Plants highlights Cowan's intriguing travels into the numinous green world.
Regardless of where we live, the gifts of the plant spirits are available to us. Our most potent plant healers are right outside our door. Dirt, air, sunshine, rain and other elements root plants to their location. This ideal relatedness with nature creates growth, and plant spirits share this restorative process when healing guidance is requested of them. Plant spirit medicine unifies and balances. It doesn't diagnose and it's not an herbal treatment. Rather than distill plants into biological properties and chemical makeup, plant spirit medicine relies on soulful communication with individual plants and plant species. The power and energy of the sacred plants require special attention.
Today, the sacred plants of tobacco, peyote, certain mushrooms and marijuana are popular. Like all sacred plants, these plant teachers become destructive when not treated with respect. Indigenous healers study and commune with them for many years to learn their medicine, and engaging with these strong plant spirits outside their native area and without proper guidance can have devastating consequences for both the individual and the culture. When human users try to "get" something from these plants, addictions, "bad trips," and other psychological and spiritual ailments arise, not from the constituents of the plants, but from a misunderstanding of their sacredness.
You can begin a meaningful apprenticeship in plant spirit communication from your own home. Get in a receptive state and thank the plant spirits aloud and in advance for their assistance. Wander outdoors until you find a plant that is attractive to you and introduce yourself to the plant as you would to a new companion. Tell it you have come to enter into relationship to learn, and thank it for any wisdom it may share. Since you are asking for a gift, make a small tobacco offering to the plant as a gift in return. Spend time studying and getting to know the plant, even becoming the plant in its surroundings. Plant teachings come in many forms, so be alert for messages. This is the shaman's way of healing with plants, aware that plant spirits carry the strongest medicine. Compare this way of knowing with that of major U.S. pharmaceutical companies who rush to the Amazon to select herbs, transport them to factories, isolate their molecules and stuff them into pill bottles! As Cowen stresses, "There is only one active ingredient in plant medicines: friendship."
Gail Lord is a freelance writer living in Massachusetts. Please send book review copies to 51 North Street, Grafton, MA 01519 or email socbookreviewer@gmail.com.