Book Review — The Dude and the Zen Master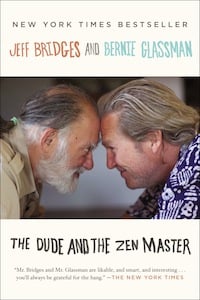 Jeff Bridges and Bernie Glassman
The Dude and the Zen Master
2014, Penguin/Plume, New York, New York
The Big Lebowski is a cult movie classic. More than a decade and a half after its original release (to less than stellar box office reviews) legions of dialogue-quoting fans embrace this Coen brothers' comedy with unparalleled enthusiasm; they attend annual Lebowski-themed conventions, invoke the film's laid-back pacifist main character The Dude as a Master's thesis topic, and even espouse the religion of Dudeism — Church of the Latter-Day-Dude. The Dude is such a pop cultural icon that before Olympic gold medalist Tara Lipinski traveled to watch this year's Winter Games in Russia she donned a very Dude-like brown bathrobe and put on a Lebowski-esque performance at the Rockefeller Center skating rink!
Why so much passion about a fictional story of mellow guy lounging in his sleepwear and his misadventures with his bowling buddies? The Dude and the Zen Master explores the often noted, and according to the Coen brothers, unintended, Zen wisdom as the film's appeal. Zen koans, or parables, investigated in "Dude parlance" are the jumping off point for the witty and often tangential conversation between the movie's Dude, actor Jeff Bridges, and his friend, leading rocket scientist turned Zen teacher, Bernie Glassman. Lines such as "The Dude abides" and the spiritual gift of genuine abiding, and "Dude, you're being very unDude" are among the familiar koans explored. "What do you do, Mr. Lebowski?" is also a koan, Glassman points out, as doing nothing is still an action. The Dude's love of bowling is an acceptance of life's strikes and gutters, ups and downs. While Lebowski fans will find special amusement revisiting characters and lines, the multi-layered discussion includes social activism, Glassman's tours to concentration camps for compassionate witnessing, as well as Bridges work with the No Kid Hungry hunger relief campaign. Also offered is a suggestion to deal with our current polarized politic system; take a dude-like attitude of "that's just your opinion, man."
Gail Lord is a freelance writer living in Massachusetts. Please send book review copies to 51 North Street, Grafton, MA 01519 or email socbookreviewer@gmail.com.