Book Review | Tuning the Human Biofield: Healing with Vibrational Sound Therapy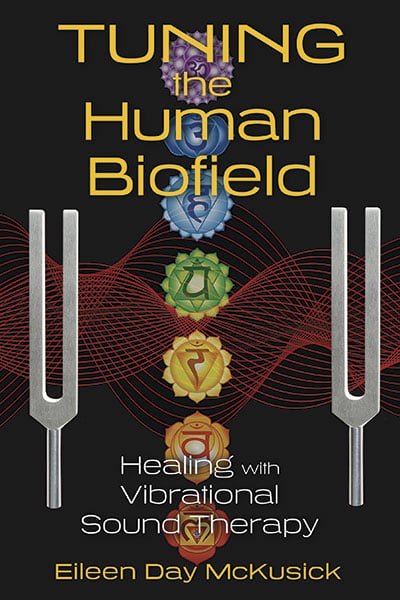 Eileen Day McKusick
Tuning the Human Biofield: Healing with Vibrational Sound Therapy
Healing Arts Press, Rochester, VT 2014
Sound healer Eileen Day McKusick got some funny looks when she first told people her vocation, yet when she titled herself a researcher studying effects of audible sound on the body, she noticed people approved. Equipped with a tuning fork and years worth of observational and scientific references, Tuning the Human Biofield is a determined intellectual and intuitive journey into the healing nature of therapeutic sound. Included is McKusick's complete program for using tuning forks for healing, a straightforward one-fork-one-motion technique (no magic powers necessary) she named sound balancing.
Trained as a massage therapist, McKusick hears energy disturbances by holding the fork over certain areas of the body, and even a distance away from the body. Using a process she calls click, drag, and drop, she uncovers and releases stuck energy and moves it back to where it belongs in the body. Mesmerized each time she hears the clear beautiful vibration that comes from a client's body, we are reminded that a magnificent unique sound is in each one of us.
Through the changing tones of the tuning forks McKusick discovered that people seem to hold experiences in similar parts of their bodies; for example, knees speak to things of the past; the right side of the throat is speaking but not being heard, and grief over lack of support from the mother shows up in problems around the solar plexus chakra on the left side of the body, while father issues are on the right in the same location. Interestingly, the solar plexus seems to hold information from birth right up through the present. McKusick created Biofield Anatomy maps referencing patterns she sees over and over, a uniquely helpful guide to anyone wanting to use the sound balancing technique.
Gail Lord is a freelance writer living in Massachusetts. Please send book review copies to 51 North Street, Grafton, MA 01519 or email socbookreviewer@gmail.com.
Read more book reviews from the Winter 2014 issue:
The Heal Your Gut Cookbook: Nutrient-Dense Recipes for Intestinal Health Using the GAPS Diet
Herbs for Stress and Anxiety: How to Make Herbal Remedies to Strengthen the Nervous System
How Do You Pray? Inspiring Responses from Religious Leaders, Spiritual Guides, Healers, Activists and Other Leaders of Humanity