Cooking with Coconut Oil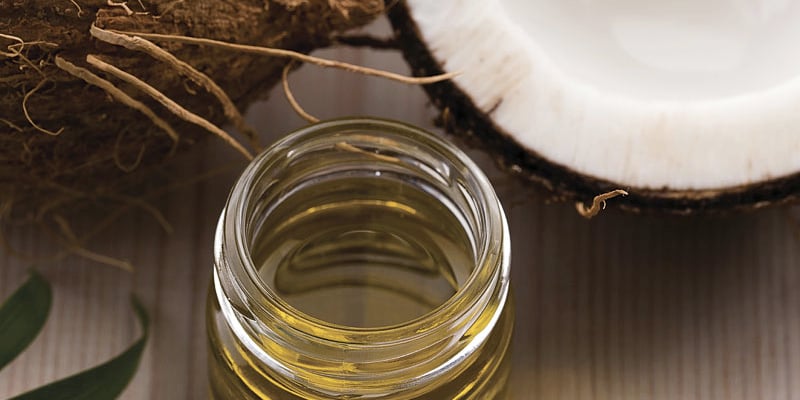 Coconut oil has hit the big time as a popular food item. Books, studies and anecdotal stories describe how coconut oil can cure Alzheimer's, boost immune system function, clean your teeth and gums, help with weight loss and regulate the thyroid, to name a few. While the scientific jury is still out on these miraculous health claims, coconut oil does taste great and is a good choice in moderation for vegans and others not wanting to use butter or lard (beef fat).
Coconut oil is made by pressing and extracting the fat out of the meat of mature coconuts. Like peanut butter, coconut butter is made by taking the meat and turning it into a buttery spread. There is oil and meat (fiber) present in the coconut butter, whereas there is just oil present in the pressed and extracted coconut oil. It is a super densely saturated fat, and at 92% one of the highest available, higher than lard or butter.
All saturated fats will raise your "bad" LDL as well as the "good" HDL cholesterol. (LDL is the cholesterol associated with various heart diseases.) Coconut oil is a medium chain triglyceride fat, however, which makes it unique to other saturated fats. Fats that contain long chain triglyceride fats tend to take longer to digest and get stored in the body as fat, whereas medium chain triglycerides get digested quickly, moving to the liver for faster use as fuel.
Coconut oil melts at 76 degrees, but will be solid at 75, making it easy to measure and store. It does not require refrigeration. Because of the high saturation, coconut oil remains stable longer and turns rancid much more slowly than less saturated fats. Coconut oil is also more stable in medium to high cooking temperatures, as well, so you are less likely to get to the smoking point of the oil (which means that the oil has become potentially carcinogenic) if you use coconut oil in your sautéing. Refined coconut oil has a higher smoke point (400º F) than unrefined, virgin coconut oil (350º F), which is said to be more healthful, but it's best to read up on the smoke point of the oil that you prefer to cook with to learn how stable it is in medium to high heat.
Be sure to read ingredient labels as many conventional coconut oils are derived from dried coconut that is highly bleached, deodorized and refined. This oil can be found in many candies, coffee creamers and things like popcorn found in movie theaters. If you are looking for the best health benefits, choose organic, virgin coconut oil. Just a little note to be ever mindful of the food you are putting into your body.
Creamy Mint Chip Vegan Cheeze Cake
This delicious recipe was one that I made for many customers in my café. Its creamy texture makes you think you are eating a dairy-rich cheesecake.
Equipment
:
High-powered blender Food processor
Thin rubber scraper
9" spring form pan
Crust ingredients:
2 cups walnuts
3 tbsp cacao powder
1/4 cup maple syrup
1/4 tsp vanilla powder or 1 tsp vanilla extract
Pinch of Celtic sea salt
Crust procedure:
Put all ingredients into food processor and process until it forms a ball of fudge. Take out and press into the bottom of a spring form pan. (Hint: you can slightly oil the pan with coconut oil if you'd like, although it isn't necessary.)
Cheeze cake filling ingredients:
3 cups raw cashew pieces
2 1/4 cup hemp milk
1 cup maple syrup
1/4 cup lemon juice
2 tsp peppermint extract
1/2 tsp vanilla powder or 1 tsp vanilla extract
2 tsp green powder, like Vitamineral Green
Pinch of Celtic sea salt
3 tbsp non-gmo lecithin (optional)
1 cup coconut oil
Cheeze cake filling procedure Add all ingredients in a high-speed blender like the Vitamix and blend on high for 30-40 seconds. You might need to use the tamper tool to push down the ingredients to the blade. This makes an extremely creamy mixture. (Note: If you don't have a high-powered blender, you might want to put half the ingredients in your blender in smaller quantities and blend until very creamy. Then repeat until all the ingredients are blended until creamy.) Pour into the spring form pan and set in freezer for 3-4 hours to firm up. When ready to eat, let stand for 30-40 minutes on counter to soften slightly. Slice, eat and enjoy. Can be stored in the fridge or freezer.
Coconutty Pancakes
Coconutty Pancakes are for coconut lovers! This is a great gluten-free pancake, but substitutions are included if you don't have all the ingredients.
2 eggs
2 tbsp coconut oil
1/4 cup maple syrup
1 tsp vanilla extract
Pinch of salt
2 tbsp coconut (or wheat) flour
1/2 tsp nutmeg
1 tsp cinnamon
1/3 cup coconut milk (or milk of your choice)
1 cup fresh berries of your choice (can combine with chopped walnuts)
In a large bowl, add the first five ingredients and beat together with a fork or wire whisk. Be sure not to over whisk. Then add the rest of the ingredients except for the berries. Set aside. Using a little bit of oil (coconut oil or butter), heat a large iron skillet and then dollop a small amount in three or four areas of the pan to create small pancakes. Slightly brown on one side and sprinkle some of the fresh berries (and/or chopped walnuts) and then flip to brown the other side. Serve hot with maple syrup, or even better, take another cup of the berries and blend with ¼ cup of maple syrup to make a fruity syrup.
Spicy Creamy Coconut Soup
A delicious fall soup.
3 tbsp coconut oil
2 yellow onions, chopped
2 lbs carrots, peeled and chopped
2 oranges, juiced
1 tsp dried ginger
1 tbsp garam masala spice mix
2 fresh cilantro, chopped
1 tsp salt
1 quart broth (vegetable or animal stock)
2 cups coconut milk
Heat the coconut oil in a soup pot and then cook the carrots and onions until they are tender. Add the rest of the ingredients into the pot and heat to soup temperature. Remove from heat and then add to blender to puree until creamy. Serve and enjoy.
Linda Mahns, MA, is a healthy food chef and educator, teaching people how to live their best, most juicy life through delicious nutrition. She is the owner of Vermont Fiddle Heads in Worcester, VT, and runs an online business manufacturing the best nut milk bags on the planet. Visit www.vt-fiddle.com or call (802) 223-2111. Email Linda your food questions at linda@vt-fiddle.com. Linda will be providing raw, living food un-cooking demos all day on Saturday, November 15 at the Natural Living Expo in Marlboro, MA.