Deliciously Peaceful Recipes
A day's worth of recipes to help you rest, relax and restore.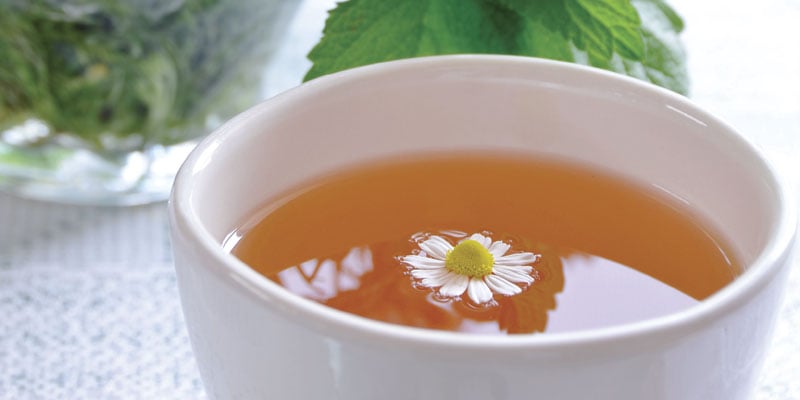 Winter is the time for restoration of body, mind and spirit. Try this day's worth of easy, unhurried recipes including fragrant herbs that help soothe an over-stressed mind and body. As you are working with these herbs, deeply inhale their fragrances to help you slow down and linger through the moments of cooking with all your senses open: smell the aromas, feel the ingredients in your hands, look at the colors, and of course, taste your creations after the flavors are married together. Even though winter is the time when most of nature sleeps, we seem to amp things up with holidays and festivities. Take time to enjoy your days and long nights even in the kitchen.
Peaceful Porridge
Lavender is known to calm the senses, ease the stress of daily life and refresh the body. Oatmeal is a comfort food. Add the two together and turn breakfast into a mini retreat as you savor the aroma while enjoying delicious porridge.
4 cups water
pinch of salt
2 cups rolled oats
½ cup raisins
½ tsp vanilla extract
½ tsp lavender flowers
1/8 cup maple syrup
½ cup chopped almonds
In a medium saucepan, bring the water to a boil, adding the salt and oats when boiling. Turn the water down and cook for about five minutes. Add the raisins to soften. Take the oats off the heat when the water evaporates and the oats and raisins are soft. Add in the rest of the ingredients and stir. Serve and enjoy.
Lemon Balm Mint Tea
A lovely dried tea mixture to try is lemon balm and spearmint. Lemon balm is a beautiful smelling herb that is in the mint family, so it tastes great with other mint leaves and is very mild tasting. It helps to relax muscles and soothe the temporary stresses in life. Brew ½ tsp of each herb in a large mug with boiling water. Add honey and steep for 3-5 minutes. Use a tea ball for the dried herbs or try a reusable tea bag.
Rosemary and Thyme Sandwich Bread
Here is an aromatic bread that is delicious and easy to make. Your kitchen will smell so dreamy as it bakes. Both rosemary and thyme are said to be helpful in reducing stress to bring about peace in mind and body.
2 ¼ cups almond meal
¼ cup flax meal
1 tsp salt
1 tsp baking soda
5 eggs
1 Tbs maple syrup
1 ½ Tbs olive oil
1 Tbs apple cider vinegar
2 tsp fresh rosemary, chopped
2 tsp fresh thyme leaves
Preheat oven to 350ºF. In a large mouth food processor, mix the almond meal, flax meal, salt and baking soda just enough to mix together. Then add the eggs, maple syrup, olive oil and apple cider vinegar and mix quickly to combine well. Stir in the fresh herbs and pour the mixture into a greased 9" loaf pan. Bake for 25-30 minutes and check to see if bread is done by inserting a toothpick in the center. If it comes out clean, the bread is done. Let the bread cool before slicing. Slice thin and serve with your favorite sandwich filling or spread.
Savory Basil Sauce
Basil is said to help create a peaceful home. This savory, yet light-tasting basil sauce is a perfect complement for baking with salmon, tuna fillet, chicken, tofu or tempeh. Make extra and use as a marinade over chopped lacinato kale and serve for a full, delicious meal.
1 cup fresh basil
½ cup cold pressed, extra virgin olive oil
1 clove garlic
2 tsp lemon juice
pinch of salt and cayenne pepper
Blend all ingredients together in blender or food processor or chop basil and garlic finely by hand and whisk with other ingredients.
Basil Strawberry Gelato
This gelato will raise your taste buds to blissful levels.
1 lb frozen strawberries
½ cup maple syrup
¼ cup fresh basil
1 tsp lemon juice
Add all ingredients in a food processor or blender until smooth. You can freeze this further if you'd like, but the frozen fruit will make this like a soft serve gelato. Enjoy!
Linda Mahns, MA, is a healthy food chef and educator, teaching people how to live their best, most juicy life through delicious nutrition. She is the owner of Vermont Fiddle Heads in Worcester, VT, and runs an online business manufacturing the best nut milk bags on the planet. Visit www.vt-fiddle.com or call (802) 223-2111.
See also:
Cooking with Coconut Oil
Love Chocolate, Love Self