Down There: Sexual and Reproductive Health the Wise Woman Way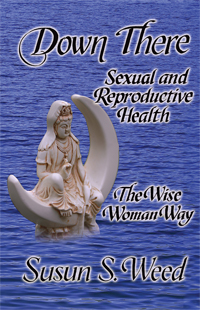 Susan S. Weed
Down There: Sexual and Reproductive Health the Wise Woman Way
Ash Tree Publishing, Woodstock, NY • 2011
Deep-rooted in the oldest healing tradition, Wise Woman herbalist Susan Weed is candid and insightful. She knows, as do all Wise Women (and Wise Men), that wisdom is what works. Down There is a manual of empowerment. While modern preventive medicine consists of unnecessary, often harmful, screening tests that frighten people into believing something is wrong with them, Weed believes in nourishing health by trusting the body's wisdom and caring for it with loving support. "I want to know all the facts, so I can decide for myself what to do, helped by inner knowing, not lashed by desperation."
Down There provides straightforward information that dispels fear and makes you feel good about your body. Among the topics presented in Part 1 are the pelvic floor; Part 2, for women, includes understanding a healthy vulva and clitoral health (including sex after menopause). Especially for men, Part 3 examines healthy testicles and explains how drugs can ruin a man's (sex) life.
Each area in Down There is discussed using the Six Steps to Healing. Moving from the health building steps that should be engaged in daily, to fast-acting but possibly last-resort modalities the steps are: Step 0: Do Nothing (meditate, listen to inner wisdom), Step 1: Collect Information, Step 2: Engage the Energy (the shaman's playground), Step 3: Nourish and Tonify (herbal infusions, movement, food) Step: 4: Stimulate/Sedate (acupuncture, massage) Step 5: Use Drugs and Step 6: Break and Enter (high tech medicine including surgeries and cat scans). Throughout, Weed fully explains a comprehensive range of healing options including integrative, alternative, herbal, and orthodox modalities, as well as energy and homeopathic medicines. Personal accounts round out the plethora of knowledge included in this all-embracing guide. Wise Woman Weed started gathering information for Down There back in 1965. It was worth the wait.