Fall/Winter 2015 Book Reviews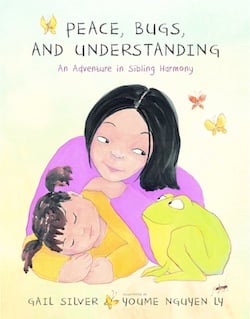 Gail Silver; Illustrated by Youme Nguyen Ly
Peace, Bugs, and Understanding: An Adventure in Sibling Harmony
Plum Blossom Books, Parallax Press, Berkeley, CA 2014
Offering Metta — loving kindness — to those around us, or even to ourselves, interrupts unhappy situations and helps soothe stormy emotions. Metta, a practice so simple a child can do it, is the lesson thoughtfully illustrated in Peace, Bugs and Understanding. This relatable tale of sibling rivalry finds older sister Lily resenting her baby sister Ruby for "ruining everything," including the special picnic they're having with their dad. As Lily's anger and frustration towards her sister escalates, her dad remains calm and offers Lily his grandfather's journal. Inside the sepia-colored pages, Lily finds her great-grandfather as a young boy, experiencing the same out-of-control angry feelings she is having about her sister.
The exasperated boy's encounter with an unrelenting frog named Anger introduces Metta as a serene way to navigate difficult emotions. Written from the perspective of an older sibling, Peace Bugs and Understanding teaches Metta as a gentle tool for self-calming and a way to share heart-centered caring with others. The story also honors the importance of ancestral teachings. As Lily embraces her great-grandfather's example, she transforms her upset into loving kindness. Leaning over her sleeping baby sister she silently offers Metta, echoing the words of her great-grandfather: "May you be happy. May you be safe. May you be strong. And may you live with peace."
---
Holly Bellebuono
Women Healers of the World: The Traditions, History, and Geography of Herbal Medicine
Helios Press, New York NY 2014
Herbalist Holly Bellebuono offers a brilliant tribute to women who carry forward the gift of botanical healing in Women Healers of the World, a global celebration of influential herbalists, both past and present. Visually beautiful, powerfully informative, and refreshingly optimistic, she shares herbal medicine's spirited history through the stories of thirty-one Wise Women who've made green medicine their life's work. From Polynesian elder Auntie Velma DelaPena to midwife Dona Enriqueta Contreras of Mexico, to Arizona's iconic Medicine Woman Dr. Tieraona Low Dog, the special role of culture and heritage in the herbal wisdom tradition is evident. Nearly all the woman healers recognized were influenced or mentored by older relatives working with plants. And many "began a lifelong journey of healing and connection because their mothers and grandmothers inspired and taught them." Sharing knowledge and history of herbal traditions with the children around us is a gift of inspiration and encouragement to the next generation of healers. In addition to understanding and supporting the value of mentoring, these women healers teach another crucial component of the green healing arts, "under no circumstances can you be a true healer if you do not have one very important thing: confidence in yourself."
Women Healers of the World focuses on botanical medicine as it is practiced in four primary traditions. 1) Plant traditions including Western Herbal, Native Nation and Folk Medicine; 2) Body Traditions such as Ayurveda, Midwifery and Allopathic (Modern) Medicine; 3) Spirit Traditions such as Homeopathy, Shamanism and Spirit Medicine; and 4) Land Traditions including Conservation and Gardening. Also included are instructions for making herbal remedies at home, inspired by world traditions. Eucalyptus Respiratory Steam, an easy kitchen remedy of eucalyptus leaves and boiling water, clears mucus and nasal passages. It's inspired by Middle Eastern remedies and used in Western herbal traditions. Kelp Spirit Bath, inspired by both Polynesian and Spirit medicine, benefits the skin by bathing with seaweed fronds. Just as herbal traditions mingle together, the colorful photographs and paintings of Women Healers of the World weave together with fascinating plant facts and lively herbalists' stories to create a cross-cultural journey into the dynamic world of female healers.
---
Regula Meyer
Animal Messengers: An A-Z Guide to Signs and Omens in the Natural World
Bear and Company, Rochester VT 2015
A hawk overhead, a fox crossing the road, aphids on your houseplants. Some animal encounters are more profound than others, but each brings a personal message to direct you to look inward. Animal Messengers explorers the spiritual meaning of encounters with over 150 creatures including mammals, birds, reptiles, fish and amphibians and insects. Most people will likely never encounter a brown bear in the wild, yet these majestic animals have a message for those who are "touched" by them. Bear reminds us of our earthly origin through our family line. This is not a psychic or karmic connection, but a human, genetic connection to our primal roots, roots which were almost lost. The family line genetically transfers fears, patterns and dramas, but it also provides the foundation for new life and new experiences. Though once driven out of the forest by human fear, bear's return brings to the human consciousness respect and recognition for our ancestors.
Fly encounters are very common, and if one is particularly buzzing around and bugging you, it's because there is transformation taking place. Something in your emotional system may be rotten. Go ahead and let yourself be annoyed by the fly as its unnerving buzzing breaks down emotional garbage and helps you come to terms with the fact that some things, like the annoying fly, are just a part of life.
To best interpret messages from the animal world, pay attention to what you're thinking as you encounter the animal, and also what direction the animal comes from. An animal encounter from the east points to change and transformation, a new beginning. An animal from the north comes as a reminder of stalled energies and brings movement as its message, while an animal coming from the south is telling you about your feelings. Pay attention to the animal coming from the west as it tells you what you need to take care of physically and what you can realistically do.
---
Megan Gilmore
Everyday Detox: 100 Easy Recipes to Remove Toxins, Promote Gut Health, and Lose Weight Naturally
Ten Speed Press, Emeryville CA 2015
Food digestion is the most energy intensive function of the human body. Improve digestion and you'll have more energy for your body to use! Nutritionist consultant Megan Gilmore, a self-described former junk food eater and yo-yo dieter, knows a two-week hunger-inducing juice fast doesn't compare to the lasting health changes that come from properly combining wholesome foods to create delicious meals and optimize digestion. Though food combining principals may sound uninterestingly complicated at first, Everyday Detox offers an easy-to-follow generalized approached in three easy steps. To begin, build each meal or snack around only one of the four basic food groupings: fresh fruit, starches, animal protein, or nuts/seeds/dried fruit. Next, round out your plate with cooked or raw non-starchy vegetables. Finally, wait 3 to 4 hours before consuming food from another food category. Tasty meal planning is easy with recipes such as Maple Pecan Granola, Mediterranean Chopped Salad and Cauliflower and Leek Gratin, and with treats like Almond Butter Freezer Fudge.
More Everyday Detox tips to boost digestion include eating fresh fruit alone on an empty stomach, or paired with leafy greens, and beginning each meal with something raw. And enjoy high quality dark chocolate after each and every meal. (Yes!) Also, make sure to include healthy saturated fats as one of your cooking staples. Though formerly vilified as a high cholesterol contributor, both butter (grass fed) and coconut oil promote the absorption of fat-soluble vitamins found in some vegetables. As an added bonus, coconut oil may help with weight reduction as recent studies show it can help reduce abdominal fat in humans. No wonder farmers in the 1940s gave up on attempts to fatten their livestock with coconut oil, the animals actually became leaner as a result!
---
His Holiness the Dalai Lama
The Dalai Lama's Little Book of Buddhism
Hampton Roads Publishing, Charlottesville VA 2015
His Holiness the Dalai Lama describes himself as a simple Buddhist monk. A man of peace interested in cosmology, quantum physics, neuro-biology and psychology, he dialogues with leaders of the scientific community trying to help individuals achieve peace of mind. Even in the face of extreme aggression he unfailingly advocates policies of non-violence for which he was awarded the Noble Peace Prize for world peace and religious understanding. The Dalai Lama's Little Book of Buddhism shares His Holiness's eight decades of insight in the Buddhist tradition as well as his extensive studies of the thoughts of others. This small pocket book filled with short helpful insights such as "Anything that contradicts experience and logic should be abandoned," was directly authored by His Holiness. In this age of Internet misquotes and dubious attributions (no matter how well intended), it's encouraging to verify the source of these thoughtful words. His compassionate advice is always practical: "Look at one person who annoys you, and use the opportunity to counter your own anger and cultivate compassion. But if the annoyance is too powerful — if you find the person so repulsive that you cannot bear to be in his or her presence — it may be better to look for the exit!" We are creators of our own happiness and suffering. Everything we experience we originate in our minds, so we must do our best to take responsibility for what we encounter. "'To do our best' means at all times in our everyday life we should probe our minds so that we don't feel guilty about our mistakes, even though others don't know about them. If we do that, we are truly doing our best."
---
Ali Berlow
The Food Activist Handbook: Big and Small Things You Can Do to Help Provide Fresh, Healthy Food for Your Community
Storey Publishing, North Adams MA 2015
Author activist Ali Berlow is passionate about food justice. Everyone needs access to affordable, healthy, fresh food and each of us has something we can contribute to our community to make that goal a reality. The Food Activist Handbook is a collection of wisdom, connections and actions, both large and small, which will inspire you to dig in and help do your part to create a food production system that benefits eaters. Start a cooking club, go meatless on Mondays, plant a garden at a jail, harvest public fruit trees, connect food policy councils and town planners. With practical tool kits and advice on every page, this enthusiastic resource book shouts "You Can Do This!"
Do you need special credentials to get started as a food activist? Leave judgment behind, and just start doing. As farmer activist and writer Wendell Berry says, "I begin with the proposition that eating is an agricultural act." Find out where your food comes from; USA raised chicken purchased at the grocery store may have taken a legal detour to China for processing before landing on your plate. The seeds you carefully plant in your vegetable garden could be Monsanto seeds; if they're Seminis seeds, they are. Can your seed dollars be traced back to pharmaceutical corporations? Find out. Keep informed. Or start with the transformative act of cooking and eating together.
Make Sunday dinner and have leftovers throughout the week. Make your diet local and historic by engaging in a project such as Northern Michigan University's ambitious Decolonizing Diet Project, a year-long eating challenge by Native American studies professor Martin Reinhardt to eat only food grown in the Great Lakes region before 1602. If you're an innovator, get involved in Farm Hack, a farmer-driven organization that gathers online and in person to build and optimize farm equipment. If you're in college, start a student farm. Whatever your interest, begin there. And don't stop.
---
Tim Link
Talking with Dogs and Cats: Joining the Conversation to Improve Behavior and Bond with Your Animals
New World Library, Novato CA 2015
Our dogs and cats are more than ordinary companions, they're special members of the family, with many households consisting of more animals than people. Head tilts, tail wags, barking and scratching, we know our pets are trying to communicate with us, but what are they saying? Talking with Dogs and Cats suggests "talking to the animals" creates the happiest relationship with our four-legged family members. How? Communicate effectively with your pet by saying exactly what you want out loud. Talk to your dog or cat like you would any other person; they understand you. Since animals communicate more intuitively and telepathically than humans, as you speak mentally visualize an image of what you want the outcome to be. The clearer and more precise your words and images, the quicker your dog or cat will respond. Above all, keep your energy and tone positive. A dog not responding to the "stay" command isn't necessarily ignoring you, but more likely confused by your tone or mental picture.
Effective communication also helps when your pet is seriously misbehaving. Often times bad behavior is caused by animal distress. Angel the cat, for example, suddenly began a pattern of ripping curtains when her human companion, Angie, was gone from the house. After some investigation, Angie realized her changed work schedule was terribly upsetting to her cat. To help Angel feel more secure, Angie explained how many hours she'd be at work, what time she'd be back, and told Angel to take long naps. From that day forward, Angie comes home to find Angel waiting by the door, house undisturbed. Dogs and cats definitely understand time, so telling them how many hours you'll be gone and visualizing on a clock the time you'll be back is very reassuring to them. For multiple overnights away, visualize the sun rising and setting the number of days you'll be gone. Your pet will be less stressed, and you'll feel better about leaving them behind.
---
Sonia Choquette
Walking Home: A Pilgrimage from Humbled to Healed
Hay House, Carlsbad CA 2014
Sonia Choquette travels the world as a celebrated spiritual teacher and intuitive guide. When a series of devastating personal tragedies leave her feeling utterly lost, she knows listening to her intuition is the only way to find herself again, and her intuitive voice is clear: "Walk the Camino de Santiago. And go alone." Walking Home is Sonia's transparent and revealing account of her arduous and healing 500-mile journey from France across the Pyrenees to northern Spain. Walking the Camino, also known as The Way of St. James and The Way of Forgiveness, she allows the ancient pilgrims' route to teach her lessons of humility and forgiveness. Yet even before leaving for her journey the universe is teaching Sonia. During a hiking boot buying trip to REI she lets go of needing to be in charge of everything. She also realizes she's very good at giving and not good at asking or receiving. She trusts the universe to take care of her, but recognizes she never really trusts people, except for her daughters, and she'd never ask anything of them.
Unable to decide on what to leave behind Sonia fills two backpacks, and forgives herself for not carrying both on the Camino. The pack she carries she names Pilgrim, while Cheater is the pack that gets transported for her. Walking primarily solo, Sonia meets interesting (and angelic) travelers, but her steady companion is a rubber Gumby she's had since childhood. Her deceased father also accompanies her, and Sonia posthumously heals their once troubled relationship. Her account of the Camino is intimate, sometimes upsetting or humorous, and often simply human and relatable, such as marching along yelling outloud at God, Mother Mary and the heavenly helpers for failing her, then happily taking a rest to enjoy a Coke and a snack. Near the end of the journey she feels sadness the pilgrimage is coming to a close because it's moved her spirit so deeply, but she's actually kind of okay with it being over because her feet really hurt. Like millions of pilgrims who traveled before her, Sonia's walk truly became The Way of Forgiveness.
Gail Lord is a freelance writer living in Massachusetts. Please send book review copies to 51 North Street, Grafton, MA 01519 or email socbookreviewer@gmail.com.