Forgiveness: A Time to Love and a Time to Hate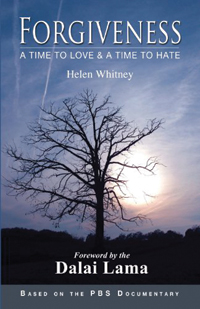 Helen Whitney
Forgiveness: A Time to Love and a Time to Hate
FastPencil Premiere, Campbell, CA, 2011
News of the recent killing of Osama Bin Laden sparked cheering and jubilation in the streets. Others, equally relieved at the successful completion of the mission, still wondered: should Bin Laden have been shot, even if he was unarmed? The media focus following the event questioned everything from the legitimacy of the killing to the considerations made for disposing of the body. Yet nowhere in the extended dialogue was there ever any mention of forgiveness. Are some acts, such as those carried out by the Taliban, just too atrocious to be forgiven? Forgiveness: A Time to Love and A Time to Hate opens up the complicated subject of the human capacity to forgive. With stories ranging from political to personal, Forgiveness not only illuminates the power of forgiveness, but also uncovers its limitations.
Exploring situations on a global level, including post-genocide Rwanda and the Truth and Reconciliation hearings in South Africa, Forgiveness highlights the shifting nature of apology and forgiveness. For crimes such as the Holocaust and the U.S. internment camps of World War II, nations have begun to publically apologize, something considered unthinkable for a strong nation just a few decades ago. Though many find these acts healing, others fear a national apology without actual amends is only empty rhetoric. Most harmful of all is the nation that withholds its apology. To this day, the Turkish government continues to deny the killing of more than 1.5 million innocent people. "For Armenians, this denial is the second genocide." Similarly, the United States has yet to fully address the suffering caused to Native Americans, or appropriately apologized for slavery and crimes based on race.
The belief systems of some communities doctrinally necessitate forgiveness. Following the unimaginable 2006 shooting of Amish schoolchildren in Nickel Mines, Pennsylvania, the immediate forgiveness offered to the murderer and his family astonished the nation. Reaction ranged from admiration to indignation. Unconditional forgiveness, as commanded by Amish religious principle, is seen by some a heroic way to transform tragedy; others contend such radical obedience is harmful on a profound psychological level. The deep wounding caused by forgiving too quickly and "the all too easy psychological and ethical assumption that it is always best to forgive" is complicated further by stories of personal betrayals and violence. Whether deserved or undeserved, the desire for forgiveness is universal. Whitney says, "The decision to forgive or not is a choice at the heart of our shared humanity."