Gardening for Life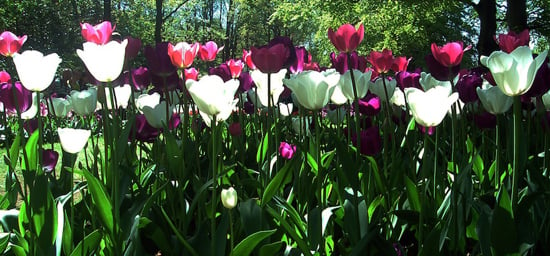 I had no plans to become a gardener. It just happened, quite unexpectedly. And it completely changed the focus and quality of my daily life.
After many years of living in a rather crowded, semi-urban area, I moved to an apartment in a house with a front and back yard. In the yard, there were bushes, trees, a few flowers, and several long expanses of empty border space, seemingly just waiting for the appearance of a gardener. It felt as if Mother Nature were sending me a gentle, encouraging message: "You are cordially invited to create your own garden here. Use your imagination!"
Even though I had grown up on five acres in the country, and both my parents had gardened, I had never done more than raise houseplants in the city apartments I lived in as an adult. Gardening outside was something I hadn't really considered doing — until now. Looking out the window at the bare dirt and open spaces, I gradually began to imagine planting a flower garden, one that would be a habitat for birds and butterflies, which I loved.
It was autumn when I moved in, so my first gardening activity was to plant bulbs that would come up in the spring. I bought flower bulbs that I was familiar with from my childhood: tulips, daffodils, hyacinth, crocus, narcissus, grape hyacinth. With a newly purchased trowel, I hesitantly began to dig holes and plant the bulbs along the front edges of the back border. That was it. My initiation as a neophyte gardener was complete. When the bulbs produced glorious purple, yellow, and white flowers the following March and April, I was hooked.
Never looking back, I bought books on perennials, annuals, gardening in sun and shade, and planting to attract songbirds and butterflies. I frequented the local nursery and learned planting tips from the staff and from friends who were also gardeners. With each new plant that I added to the border, I felt more connected to the earth and to this small piece of land where I lived. I began to arise at 5:30 or 6 a.m. and go outside to visit my flowers at dawn, watering the soil if it was very dry. Each evening after work, I would spend an hour or so in the garden as well. The tension of the day drained from my body, and my spirits lifted as I walked quietly about, weeding, deadheading flowers, straightening drooping stems. Often I would just stand watching everything grow, as my father had done in his own garden so many years before. That quiet time spent alone in the garden with the living energy of so many beautiful green plants and colorful flowers filled me with life, too.
And then, of course, there were the other living creatures that came to the yard: robins, goldfinches, chickadees, cardinals, hummingbirds, butterflies (monarchs, tiger swallowtails, red admirals, American ladies), chipmunks, rabbits, squirrels…and the bees. It was during that first summer that I fell in love with bumble bees. There were at least five different kinds of bees who visited my flowers, including honeybees, but the bumblebees were the ones that stole my heart. When I discovered that they often slept overnight on my flowers, I was enchanted. Their small yellow-and-black, fuzzy bodies curled up in the flower's center, leaning against the petals, was a sight to melt the hardest heart. I felt honored to be able to provide a safe place for them to rest.
As the seasons passed, it was amazing to see a small habitat take shape in my yard. I bought a birdbath for the birds to bathe in and drink from in the warmer months; in the winter I put up a pole seed feeder and a hanging suet feeder. I learned which areas of the yard were sunniest and which shadiest and how the sun moved throughout the day and the year. Through trial and error, I discovered which plants thrived in which areas of the yard. I gathered information about the flowers and bushes that attract butterflies (echinacea, zinnias, butterfly weed, butterfly bush, pincushion flowers for nectar; parsley and dill for caterpillar food) and those that attract birds (goldfinches love echinacea and sunflower seeds; hummingbirds love bee balm nectar; mockingbirds and cardinals love the berries of winterberry). I found that bees have particular favorites among the flowers: lavender, sedum, butterfly bush, bee balm, echinacea, zinnias, Mexican sunflowers. Each day I spent in my garden brought new discoveries and knowledge about the natural world around me.
In my third season of gardening, I attended a lecture by Douglas Tallamy, author of Bringing Nature Home. He spoke about how to sustain wildlife with native plantings. It was a fascinating introduction to the concept of using plants that are native to your geographical area in order to create ecological balance. Sterile landscaped yards that have only non-native plants, bushes, and trees and chemically treated lawns provide no habitat for birds, insects, and animals who live in balance in the wild. With the loss of so many wilderness areas to human development, it becomes increasingly important for people to plant responsively and natively in their own backyards.
Doug's book provides lists of plants, shrubs and trees that are native to various geographical areas, including New England. I found similar regional lists, as well as individual plant descriptions and photographs at http://www.abnativeplants.com, linked to the National Wildlife Federation. My local garden center also had lists of native plants, many of which they stocked. I used all of these resources to find the names of native plants that I could add to my garden. Some I already had, such as bee balm, butterfly weed, cardinal flowers, and asters. I added Joe-Pye weed, oxeye sunflowers, winterberry, and bearberry. It was heartening to see the bees crowd onto the tall blossoms of the Joe-Pye weed when it bloomed, especially because I knew how crucial natural habitat is to bees now when their numbers are declining, very possibly because of the use of pesticides and other toxic chemicals.
Avoiding pesticides and herbicides in gardening is key to maintaining ecological balance. People often associate organic gardening with vegetables, but it is equally as important in flower gardening. Creating a habitat in which humans as well as birds, butterflies, bees, plants, and animals are safe is one way we all can contribute to a cleaner, healthier environment. Using rakes and manual clippers instead of loud gas or electric equipment such as leaf blowers and hedge trimmers helps prevent air and noise pollution. In addition, compost bins and rain barrels under downspouts are inexpensive ways to prevent waste and provide water and nutrients to backyard gardens.
I've learned so much in the last three years — about gardening, about nature, and about myself. I feel more at home where I live now that I have an ongoing relationship with the earth and with the living beings whose home it also is. To stand silently in the early morning light and know that I am part of the life that flowers all around me is a gift unlike any other in the universe. And it is a gift available to all, whether in backyard or community gardens, country or city. Gardening is a way to help co-create a small piece of paradise on Earth.
Peggy Kornegger is a writer, editor, and author of Living with Spirit, Journey of a Flower Child, available from Amazon.com and most other online booksellers. Her website is http://spiritflower.wordpress.com/.