Healing the Hurt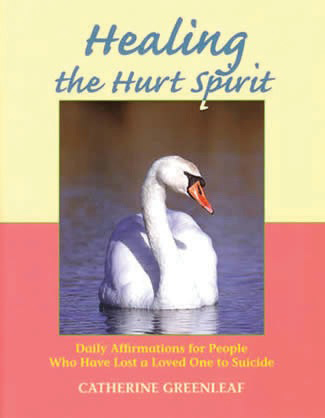 Catherine Greenleaf
Healing the Hurt Spirit: Daily Affirmations for People Who Have Lost a Loved One to Suicide
St. Dymphna Press, Andover, NH 2010 (revised)
http://www.healingthespirit.com
A gifted college freshman's last words, "jumping off gw bridge sorry," recently moved the tragedy of suicide to the front and center of our collective consciousness. The World Health Organization says suicide is now the third leading cause of death for individuals age 15 to 44. And according to the Centers for Disease Control, Americans sixty-five and older have the highest suicide rates of any age group. Clearly, suicide does not discriminate. Of the more than 790,000 attempted suicides each year, the American Foundation for Suicide Prevention reports an average of 30,000 people succeed. As these devastating reports stun us, our thoughts turn to the families and friends who have lost a loved one to suicide, that is, the suicide survivors. Suicide survivors are not limited to family and friends; they include co-workers, guidance counselors, EMTs, doctors, nurses, clergy members, police officers, therapists, classmates and anyone else who unexpectedly finds themselves at the scene of a completed suicide. How do they cope with such deep tragedy? How do they find the strength to go on?
Having experienced suicide loss three times over a twelve year period, long-time non-denominational spiritual director Catherine Greenleaf knows first-hand the complex, confusing world of a suicide survivor. Healing the Hurt Spirit is an album of Greenleaf's twenty-five year journey and mystical transformation through suicide grief. Her supportive, friendly voice offers suicide survivors a year's worth of daily empowerment through page-a-day healing messages. From exploring feelings of "Terminal Uniqueness," the phenomenon of feeling totally alien and feeling never able to truly belonging again, to the challenge of "Receiving Love" as a suicide survivor, Healing the Hurt Spiritopens up and reclaims the spiritual side of suicide loss. The aftermath of suicide is bewildering. In this darkest of grief, Healing the Hurt Spiritshines a steady light of understanding and hope.
Gail Lord is a freelance writer living in Massachusetts. Please send book review copies to 51 North Street, Grafton, MA 01519 or email socbookreviewer@gmail.com.