Is Acupuncture Right for You?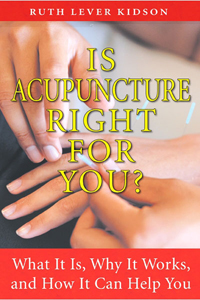 Ruth Lever Kidson
Is Acupuncture Right for You? What it Is, Why it Works, and How It Can Help You
Healing Arts Press, Rochester, VT, 2008 (2nd edition)
Holistic means "encompassing the whole." Unlike Western medicine's attempt to alleviate individual symptoms, the holistic approach of acupuncture treats the whole person, the underlying symptoms and the underlying cause of the ailments. Is Acupuncture Right for You? provides straightforward answers to questions of the potential acupuncture patient by explaining how practitioners use the principles of Chinese medicine, what to expect from treatment (needles don't have to be painful!) and how to choose an acupuncturist. A first time patient may find an initial consultation similar to a family doctor visit; a pulse, skin, tongue, and nail examination takes place, and many questions are asked. A diagnosis is based on an interpretation of the symptoms and signs presented in the exam. The actual treatment will then relieve energetic imbalances and blockages throughout the entire body. Once the body's normal state of energy is restored it can get on with the work of healing itself.