Navigating Sustainable Seafood For Taste And Health — It's Complicated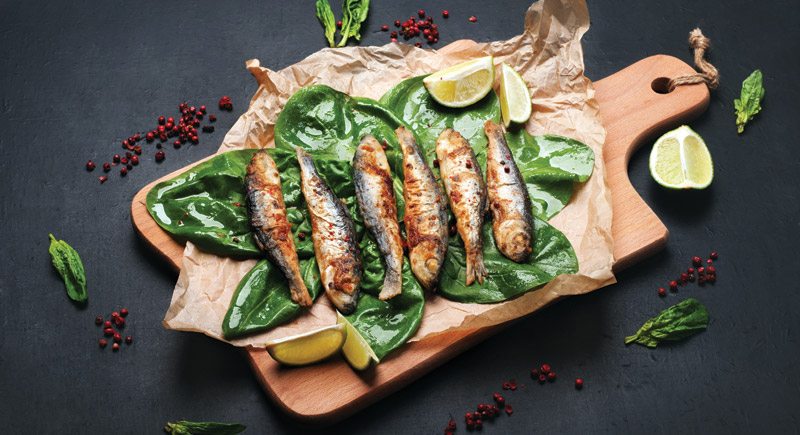 My first experience with sardines was as sensually pleasing as you could ask: grilled whole. I was on a glistening beach, seated at a table under a blue canopy to shade the hot midday sun of Ibiza, Spain. Their rich oiliness, and tiny, crispy, salty tails were, as I recall years later, perfection alongside cold local white wine. Little did I know that my sardine experience was a glimpse of seafood fare to come.
Featured prominently in the Mediterranean eating pattern (the diet with the greatest scientific research support), enjoying seafood should be a no-brainer. Seafood is healthy — filled with anti-inflammatory omega-3s, protein and other nutrients. Omega-3 fatty acids boost immunity, and their anti-inflammatory action helps prevent cardiovascular disease, stroke, some cancers and other disease. Omega-3s are particularly important to pregnant and nursing women for neurological health.
Yet, seafood is a product of our changing oceans, which are, like Earth itself, under unprecedented environmental stress. National recommendations that cite an ever-expanding list of seafood to avoid or limit due to high levels of mercury remind us of the relationship between the ocean environment and our health. Can we enjoy clean seafood in a sustainable way?
Yes, we can, so long as we are informed seafood consumers. Seafood absorbs its aqueous environment, and particularly for larger fish swimming around eating smaller ones, over time that means higher levels of mercury and other contaminants in their flesh. Mercury is a neurotoxin and exposure can cause a wide array of serious health issues. I remember a time when there were no Food and Drug Administration (FDA) warnings on mercury levels in fish. Now, particularly if you are pregnant, you need to keep an eye on the types of fish to avoid. The FDA reports that over the last decade, according to national data (NHANES), the blood mercury levels of women of childbearing age have actually gone down, perhaps because of awareness around avoiding certain types of fish during pregnancy. These include king mackerel, marlin, orange roughy, shark, swordfish, tilefish and bigeye tuna.
Climate change and warming oceans means that the seafood we enjoy today will not likely be the seafood we enjoy in years to come. Sustainability — being responsible for how fish and seafood are caught or farmed — is critical to the future of the oceans and to the fish we eat. Where and how fish are caught, and best practices for how they are farmed is complicated. A number of watchdog and advocacy groups, including Seafood Watch from the Monterey Bay Aquarium in California, report on innovations and controversies in these industries.
What's a thoughtful person to do when it comes to eating seafood? Adapt. Be nimble. Enjoy and appreciate the fish and seafood you eat, and keep an eye on the safety advisories. Embrace the complication as part of engaging fully in this ever-changing life we live.
When it comes to fish, think small; sardines and other small fish tend to be much lower in mercury than their larger counterparts like tuna, swordfish and others listed by the FDA. Beyond that, we need a little help from our friends. Luckily, we have them in advocacy groups who are studying the issue of balancing human health with environmental health and sustainability.
We want to eat seafood rich in omega-3s and low in contaminants, that is sustainably raised. Seafood Watch's Super Green label includes fish that are both caught or farmed responsibly and also are excellent for health. This includes Atlantic mackerel, freshwater coho salmon, Pacific sardines, and Alaska salmon. Another food watchdog group, the Environmental Working Group, has a Good Seafood Guide to help people make smart seafood choices. Their report weighing a balance of safety and health factors leads to a similar list, with the addition of muscles, rainbow trout, oysters, pollock and herring to the good choice list.
I'm a fan of keeping it fresh and simple when cooking seafood. Fish is so delicious, that a warm oiled pan and a bit of salt, pepper and citrus are really all you need. If you are more familiar with cooking meats rather than fish, my one piece of advice is that fish cooks very quickly and is easy to overcook. Just a few minutes can be the difference between perfectly cooked and mushy, strong-tasting fish. Less is more.
If you are a values eater, seafood choices can be complicated. The good news is that your choices matter; they are critical not only to your own health but also to health of our world's oceans. You can honor and appreciate the seafood you eat through the way you select and prepare it. You can sign up and get involved through an advocacy group. However you choose to experience your seafood, bless it and thank the ocean for allowing us to be nourished by its bounty.
Stay on top of seafood health and sustainability with these three resources:
1. EPA (Environmental Protection Agency) and FDA (Food and Drug Administration)
2. Environmental Working Group
3. Seafood Watch
Recipes
Here are my favorite recipes that can help you bring healthy, sustainable seafood into your kitchen and onto your table. These recipes can accommodate a variety of fishes; you can adjust the fish or seafood you use. They are nimble and flexible. Enjoy.
Linguini With Clam Or Sardine Sauce
This is an easy version of a classic dish updated to accommodate that seafood darling — the sardine. Change it up by adding green herbs like basil, parsley or tulsi (a type of basil). Zest is the flavorful, oil-filled, outer skin of citrus. There is a tool called a zester that will help you peel lovely curls of zest from an organic lemon or orange. Or use a paring knife to slice thin pieces of zest and then dice, or scrape the skin with the tines of a fork. Serves 4.
Ingredients
1 4.5-oz can sardines in olive oil, or clams in their own juice
1/4 cup extra virgin olive oil
1 small bulb fennel, sliced thin
3 large cloves garlic, peeled and diced
1/4 tsp red chile flakes
1 15-oz canned peeled crushed tomatoes
2 oz white dry vermouth
1 medium lemon, juice and zest
1/2 lb linguini
1/2 tsp salt or more, along with black pepper, to taste
1/4 cup Parmesan cheese
Instructions
Bring a large pot of water (with 1/2 tsp salt and 1 tsp olive oil) to a boil for the pasta.
Drain the oil from the sardines, or the juice from the clams and reserve.
In a large skillet, place olive oil (you can use the oil from the sardines and subtract that from the total olive oil you use). Warm oil over medium heat, add the garlic and fennel, and sauté for 5 minutes or until fragrant.
Add the chili flakes, sauté for another minute, then add the tomatoes, clam juice (if using) and vermouth. Cook until the liquid is reduced and thickened a bit.
Add the sardines or clams (or both!). Add lemon zest and juice. Taste and add salt and pepper.
Add the linguine to the boiling salted water, cooking it until it is almost al dente (a smidgen firm). Using tongs, transfer the linguine to the sauce to finish cooking, adding a little bit of the starchy pasta water and tossing gently to combine.
Serve in large warmed serving bowls topped with a drizzle of olive oil and Parmesan.
---
Sardine Butter
Compound butter, made when we work herbs, spices and other flavor-enhancers into soft butter, is a delicious way to enjoy the frothy flavor of sardines in a subtle form. Add your favorite herb, spice or citrus juice and zest for your own signature butter. Serves 8 or more.
Ingredients
1 stick salted organic butter, soft
1 small can sardines packed in oil
1 medium lemon, juiced, and tested
1 Tbsp chives, diced
1 tsp parsley, diced
Pinch black pepper
Instructions
Drain oil from sardines.
Place all ingredients in a medium bowl and mash together.
Serve sardine butter in a ramekin or small bowl and enjoy with crackers or over steamed or roasted vegetables.
---
Seafood Stew
Here is a quick and easy fragrant stew that calls for a variety of seafood, so you can modify and use fish that is sustainable and available to you. Serve this stew with a crusty French or Italian bread and a simple salad. Serves 6 to 8.
Ingredients
1/3 cup extra virgin olive oil
5 crushed garlic cloves

1 small yellow onion, diced
1 15-oz can crushed tomatoes
1 cup fish stock or clam juice
1/2 cup dry white wine
1 pound skinned saltwater fish (pollack, cod, halibut), cut into 2-3 inch pieces
1 pound shrimp, shelled and deveined, cut into 2 inch pieces
1 pound sea scallops, sliced in half or quartered
1/4 cup fresh basil, chopped
1/4 cup fresh parsley, chopped
Salt & pepper to taste
Instructions
Heat oil in a 4 to 6 quart sauce pot. Add garlic and onion, and sauté on low heat for about two minutes or until the garlic is fragrant but not browned.
Add the tomatoes, stock and wine and simmer for about 10 minutes.
Add the fish and seafood and simmer for about 5 minutes until just done. Stir in the parsley and basil, add salt and pepper to taste, and serve.
---
Pan-Sauteed Salmon Tacos
These tacos are an excellent choice for a casual meal with friends. You might have your favorite hot sauce on hand to heat things up, or add beans, avocado and your favorite taco filling to change things up. Serves 2-4.
Ingredients
1 pound fillet of salmon, skin removed
2 Tbsp grapeseed oil

Pinch cayenne
4 corn tortillas
1/2 head savoy cabbage, sliced very thin (shaved)
3 scallions, diced
2 Tbsp mayonnaise
1 tsp sweet pickle relish
1/2 tomato, diced
1 lime, juiced
Salt and pepper to taste
Instructions
Warm oil in a heavy skillet over medium heat.
Place fish in skillet and sauté until fish begins to firm, 4 or 5 minutes. Turn fish over, sprinkle with cayenne, cover, and turn heat off, leaving pan on burner.
In a second pan over medium-high heat, heat tortillas one at a time by placing them (no oil) in the pan, and turning them after a minute. Once warmed, place them on a warm plate.
In a medium bowl, mix mayo, relish and lime juice into sliced cabbage and scallions to make a slaw.
Construct tacos with tortilla, fish, slaw, and tomatoes. Salt and pepper to taste.
Annie B Kay, MS, RDN, E-RYT500, C-IAYT is an integrative dietitian, yoga therapist and shamanic plant alchemist who directs programs and retreats at Kripalu and internationally. She has a telehealth private practice in Western MA. www.anniebkay.com
See also:
Could Marine Phytoplankton Be The Future Of Human Nutrition?
Something's Fishy About Seafood Labels