Put 'Em Up: A Comprehensive Home Preserving Guide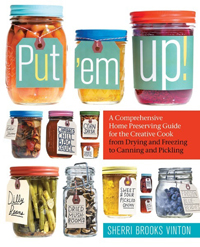 Sherri Brooks Vinton
Put 'em Up: A Comprehensive Home Preserving Guide for the Creative Cook
Storey Publishing, North Adams, MA 2010
http://www.storey.com
The stone walls in the basement of my old New England home are lined with shelves that have just a few inches between each wooden board. The original occupants of my home, like most of their generation, were canners. The shelves were probably filled with homemade sun-ripened jams, fresh relishes, and a season's worth of local harvest to feed the family in winter. Put 'em Upis a modern call to return to this splendid age-old tradition of preserving food. Canning, pickling and creating chutneys is a delicious connection between families and their heritage through the passing down of recipes and stories. In addition, home-preserved foods are high quality and planet friendly.
To the naysayers who feel home food preservation is hugely time-consuming (wrong!), or worse, hugely dangerous ("you might kill someone!"), it's not. Put 'em Updemystifies the entire process of "putting food by." Where to get the best food for preserving (local food is more flavorful and less likely to be treated, so if you don't have a veggie garden visit a farm stand or farmer's market); what equipment is needed (got a stovetop and a refrigerator? you're set!); and which food preparation methods work best for which foods are topics covered, as is food safety advice and how to tell when good food's gone bad. From blanching to fermenting to freezing, and canning to drying, Put 'em Upis reassuring guidance for preserving food. Whether you've picked strawberries for a special jelly, or you've got some really ripe plums on the countertop,learn step-by-step how to get the most out of your food. Not only are the 150 recipes simple to follow and the results delicious, you'll also be able to save piles of fresh food from a date with the compost (and loads of grocery dollars in perishable food).
Gail Lord is a freelance writer living in Massachusetts. Please send book review copies to 51 North Street, Grafton, MA 01519 or email socbookreviewer@gmail.com.