Radical Healing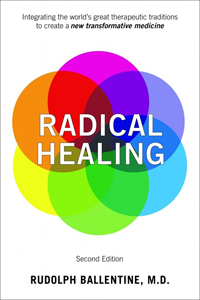 Rudolph M. Ballentine, M.D.
Radical Healing: Integrating the World's Greatest Therapeutic Traditions to Create a New Transformative Medicine
Himalayan Institute Press, Honesdale, PA 2010 (2nd Edition)
http://www.HimalayanInstitute.org
As politicians posture over how to best "revamp" our current healthcare-in-crisis system, truly transformative healing modalities are being completely ignored. The estimated $27 billion Americans spend annually on alternative and complementary medicine are, for the most part, not included in the conversation. What is needed now is not a re-working of the old medical paradigm, but rather a new vision of health care that includes the unique capabilities of traditional healing systems. Radical Healingis a giant step in the right direction. In his book, author Rudolph Ballentine, MD, blends the primary holistic schools — Ayurveda, homeopathy, Traditional Chinese Medicine, herbology (including Native American herbs), psychotherapy, bodywork, energy work and nutrition — to present a comprehensive framework for natural medicine healing. His integrated approach also includes the recovery of natural awareness. A Duke Medical School graduate who studied Ayurveda and homeopathy in India, Dr. Ballentine created and directed the Center for Holistic Medicine in New York City for 25 years.
Radical Healingincludes a Self-Help Index and Home Medicine Kit chapter covering the treatment and prevention of more than 100 common ailments such as alcoholism, anxiety, viral infections and heartburn, with a prioritized list of remedies from each healing tradition. While the scope of Radical Healingis broad, Dr. Ballentine's conversational tone, case studies and spiritual personal insights make it an accessible guide to dynamic healing. "The average person not only needs tips on 'what to take' for prevention and for common ailments, he or she also needs a major overhaul in how to thinkabout health and healing," notes Ballentine.
Gail Lord is a freelance writer living in Massachusetts. Please send book review copies to 51 North Street, Grafton, MA 01519 or email socbookreviewer@gmail.com.