Self-Care To Maintain Eye Health At Any Age
You can learn to help preserve your eyesight and become an active participant in your own vision care.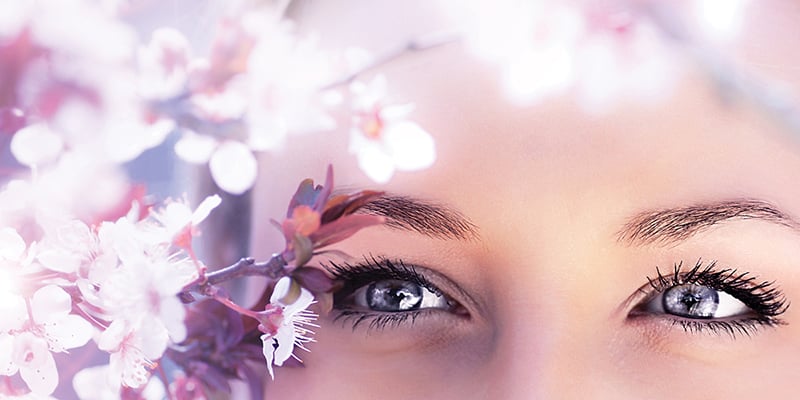 As we age, our chances of developing a serious vision problem increase significantly. This is often due to poor circulation, reduced production of enzymes to break down foods resulting in poorer absorption of food, added medications, and a more sedentary lifestyle. More than half of people over the age of 70 years old have an eye condition such as cataracts, glaucoma, and macular degeneration; people with diabetes often develop diabetic retinopathy. These limiting conditions decrease the quality of life. No matter what age, your body is always trying to heal, so a healthy diet, regular exercise, stress reduction and targeted nutrition all support your natural healing process. Taking a preventative approach to eye health combined with the strengths of modern day Western medicine can help preserve your precious gift of sight. You can learn to help preserve your eyesight and become an active participant in your own vision care.
Twenty-Five Percent Of Absorbed Nutrients Nourish the Visual System
Let's start with nutrition. More than 25% of the nutrients we absorb from our food go to nourish the visual system. Eating whole, unprocessed foods is crucial. Most processed foods have fewer nutrients and preservatives make the nutrients difficult to absorb. Fast foods are over processed any many of the vitamins and enzymes have been destroyed in the process. Relying just on single supplements to compensate for a bad diet is a fallacy. The body does not use each vitamin or mineral in isolation. Targeted supplementation helps the body and eyes stay healthy, but is used in conjunction with healthy eating habits.
Good vision (and heart) diets such as the Mediterranean Diet, South Street Diet or Pritikin Diet, for example, are all low in carbohydrates and sugar, and high in vegetables and fruit. The Mediterranean Diet includes whole grains (brown rice, millet, spelt and buckwheat), sea vegetables (dulse, nori, and hijiki because they are high in minerals), fresh fruits and vegetables. There is no one diet that is good for everyone, so you need to select the diet oriented toward your needs.
In general, and diet should be low in refined carbohydrates and sugar, and high in green leafy vegetables and colored vegetables and fruit — particularly berries. Avoid fried food, as well as trans-fatty acids, such as in most margarines and many chips, and include good quality olive oil for your salads. You can cook with olive oil in low heat, but not to the point that it causes smoke. If you want to cook in oil on high heat use saturated fats such as butter, coconut or avocado oil. Steaming is a great way to cook your food and vegetables without oils.
Be sure to eat a wide variety of vegetables for vision health. This broadens your range of different antioxidants needed to neutralize free radical and support healing. Red, orange, and yellow pigmented fruits, and green leafy vegetables contain carotenoids. This group of lipids is crucial to vision health. Specifically, include kale, collard greens and spinach in the diet. These leafy vegetables have large amounts of lutein, which is a carotenoid that helps protect the eye's macula and lens.
Targeted Eye Health Supplements
Your age, health, activity level and stress can affect what your body needs and how well it uses the nutrients from your diet. This is where targeted supplements come in, which can be taken for nourishing the retina, eye lens and overall eye health, as well as helping to prevent eye conditions such as macular degeneration, glaucoma, cataracts, and even dry eyes. If you are on any blood thinning medication or other medications, check with your doctor first before adding supplements. The most important general supplements for eye health are:
Vitamin C both prevents and helps heal cataracts. In parts of Europe and Asia, vitamin C is considered a routine treatment for glaucoma because it lowers eye pressure. Vitamin C also acts as a natural UV filter for the eyes, which helps slow the aging process in the retina. People with low levels of vitamin C have two to three times the risk of macular degeneration. Recommended daily dosage is 2,000mg.
Lutein and zeaxanthin are two carotenoids that appear to reduce your risk of macular degeneration. According to a Harvard University study, eating a serving of spinach once a day was enough to lower risk by 46 percent. Recommended daily dosage is 10mg of lutein and 4mg per day of zeaxanthin.
Omega-3 Fatty Acids, such as in fish and fish oil, helps prevent macular degeneration. 50% of the retina and brain are comprised of DHA; fish oil contains DHA, EPA and alpha linolenic acid, all essential for heart, retina and brain health. Recommended dosage is 2,000mg – 3,000mg per day.
Bilberry boasts over 40 years of research confirming its eye health benefits. This fruit extract can improve night vision, relieve visual fatigue, and protect the eyes from macular degeneration and cataracts. Recommended dosage per day is 120mg for prevention and 240 mg if you have an eye condition.
Beta-carotene (provitamin A) along with vitamin E, has been shown to be effective against macular degeneration. In parts of the world where vitamin A deficiency is widespread, people get severe dry eyes, which can lead to blindness. Recommended dosage of beta-carotene is 15,000 I.U. per day or 5,000 I.U per day of vitamin A (can be higher if deficient). If you have a thyroid condition or diabetes, check with your doctor before starting this supplement as you may have trouble converting beta-carotene to vitamin A.
Vitamin D3: Vitamin D tends to be low in seniors and is essential for retinal health, brain health, boosting the immune system, and even lowering the risk of onset of macular degeneration. Recommend dosage is 2,000 I.U. – 5,000 I.U. per day.
Helpful Exercises To Preserve Vision
Both eye exercises and physical exercises are extremely important in the treatment and prevention of eye conditions. Exercise raises oxygen levels in the cells and increases lymph and blood circulation. This increased circulation revitalizes the organs and glands and speeds up detoxification of the body. Gently build up to aerobic exercise for a minimum of 20 minutes per day, four days a week. Acupressure points around the eyes can be massaged daily to help support energy and blood flow in the eyes.
PALMING. This exercise is done without any glasses or contact lenses and helps reduce stress around the eyes. By placing your palms around your eyes you are stimulating very powerful acupuncture points that help to calm the mind, relax the muscles around the eyes and bring healing energy to the eyes through increased circulation. Starting with just three minutes a day, palming gives you the opportunity to focus on relaxing your mind and eyes simultaneously, and can be done for as little or as much as you like throughout the day as a way to relax your eyes and calm down from the tensions of daily life.
1. Remember to breathe throughout this exercise. Start by taking two deep breaths.
2. Find a flat table to sit at, lean forward, place your elbows on the table, and close your eyes gently.
3. Now, place the palm of your left hand over your left eye, your fingers on your forehead, and the hollow of your palm directly over the eye, but not touching it. There is still room to blink. The heel of your hand rests on the cheekbones.
4. Then place the other hand over the other eye with the fingers crossing over the fingers from the other hand. The palm should be over the eye and the heel of the hand resting on the cheekbones.
5. Make sure your elbows are low enough so that your face and the weight of your head are resting in your palms, and that there is no stress on the neck.
THE HOT DOG. This exercise is done to improve the flexibility of the inside muscles of your eyes, called the ciliary muscles. It is important to keep those muscles flexible.
1. Remember to breathe throughout this exercise. Start by taking two deep breaths.
2. Either stand or sit with your feet shoulder width apart. If you are standing, make sure your knees are slightly bent.
3. Aim your eyes on any target in the distance.
4. While looking at your distant target, bring your index fingers with tips touching about eight inches in front of your eyes and into your line of sight.
5. Still aiming your eyes at the distant target calmly notice a mini hot dog has appeared between the tips of your fingers. While continuing to breathe easily and deeply, do not let the image of the mini hot dog distract you or cause you to aim your eyes directly at it. Keep your focus on the distant target.
6. Pull the tips of your fingers apart slightly and observe the hot dog floating in the air.
7. Now keep the hot dog focus for two breaths, then look directly at your fingers and the hot dog will disappear. Breathe two more breaths, then look again in the distance and find the hot dog for two more breaths. Switch back and forth for two minutes.
NEAR AND FAR FOCUS. This exercise is done to improve the flexibility of the eyes as they change from distance viewing to near visual focus.
1. Remember to breathe throughout this exercise. Start by taking two deep breaths.
2. Either sit or stand with feet shoulder width apart. If you are standing bend your knees slightly.
3. Hold your thumb six inches away from your eyes directly in front of your nose.
4. Gaze easily at the thumb and take a deep breath. Then focus on a distant object at least ten feet away and take a deep breath. Change this focus every breath. Feel the muscles in your eyes change as you shift your focus.
Five Tips To Keep Your Eyes Vibrant and Alive
Don't keep your eyes focused in one place for a sustained period. Change your focus, look up and out a window if possible, and keep your eyes moving. Sustained contraction of the eyes leads to contraction of the entire upper body. Staring also causes tension in the visual system.
The eyes are light-sensing organs. Get at least 20 minutes of natural sunlight a day, which acts as a nutrient to the eyes and helps them work optimally. For periods longer than 20 minutes, wear 100% UVA/UVB sunglasses, preferably with polarized lenses. Amber color lenses are best, with grey lenses being second best, as excessive sunlight may be a possible cause of macular degeneration and cataracts.
Avoid smoking. Smokers have a 50 to 100 percent increased risk for every eye disease and tobacco smoke is probably the number one eye irritant.
Avoid sugar, which depletes the eye of crucial nutrients.
Avoid excessive use of alcohol, which causes stress to the liver where vitamin A is processed. One glass of red wine at night is fine for most people.
Marc Grossman, O.D., LicAc, is an optometrist, licensed acupuncturist and the author of five books on natural eye care, including Natural Eye Care: Your Guide to Healthy Vision and Healing (2018, Natural Eye Care, Inc). With over 30 years of practice, he has extensive experience in the field of preventive medicine and natural healing. Visit www.naturaleyecare.com.
See also:
Restored Vision Through Vitamin D Megadoses
Palming for Better Vision
Find New England holistic Spiritual Education practitioners in the Spirit of Change online directory.