Shell Shocked Soldier's Heart: Healing PTSD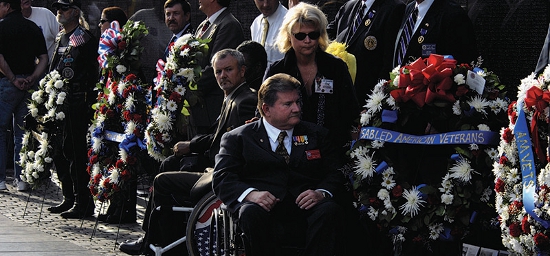 Many of us rely daily on our healing practices to open our hearts and center our bodies, to regain balance and find inner peace in this increasingly complicated world. Transformative healing opportunities from all over our world are converging. Ancient spiritual customs are engaging with neuroscientists; living-system biologists confirm the traditional wisdom of indigenous healers. We are truly fortunate to be living at this unique time in human healing history.
Yet some, sadly perhaps those who are most wounded, have no knowledge or access to transformative healing. Consider these statistics: about one-third of the adult homeless population have served their country in the armed services; estimates suggest that about 154,000 veterans are homeless on any given night and perhaps twice as many experience homelessness at some point during the course of a year. 45% of homeless veterans suffer from mental illness and over 70% suffer from alcohol or drug abuse.1 According to a 2007 study reported in the Journal of Epidemiology and Community Health, the suicide risk among male US veterans is double that of the general population.2 Clearly, this is a marginalized population in great collective pain.
Our military veterans are returning home with invisible wounds. Known as shell shock in World War I and "soldier's heart" during the Civil War, the cluster of symptoms we now call post traumatic stress disorder (PTSD) can destroy lives and relationships. While most of us can simply shut off the devastating footage on the evening news, combat veterans with PTSD may re-experience the life threatening images over and over again as if they are still happening. Chronic pain, feelings of isolation and detachment, hyper-arousal and difficulty sleeping are just some of the many devastating issues confronting veterans with PTSD.
"We'll fight them over there so we don't have to fight them over here."
Certain politicians use this phrase as a rally cry for war, yet they fail to acknowledge the impossibility of any war truly ending "over there." Soldiers return home carrying with them the psychological nightmare of combat, even though they are supposedly out of harm's way and back over here. The Rand Center for Military Health Policy Research reports at least 18% of U.S. service-members who have returned from Afghanistan and Iraq currently have PTSD.3 Other studies assert the numbers are as staggering as one in five. While PTSD usually starts shortly after the traumatic event, its onset can also be delayed months or even years. According to the National Center of Post Traumatic Stress Disorder, experts believe over 30% of Vietnam veterans and at least 10% of Gulf War (Desert Storm) veterans suffer from PTSD. News of the current war can continue to worsen their symptoms. Concerned with the enormous number of veteran PTSD diagnoses, the government has recently started investigating various holistic practices for emotional healing. Reiki, transcendental meditation, yoga and animal assisted therapies are just some of the clinical trials currently being done.
Lucy Cimini, founding director of the Central Mass Yoga Institute in West Boylston, Massachusetts didn't wait for Department of Defense clinical trial results before she started helping decades' worth of combat veterans. Working with the core principles of yoga, Lucy provides an environment for combat veterans to come together for self-healing as "Yoga Warriors." For the past four years, collaborating with Tom Boyle, Worcester Vet Center's readjustment counselor and himself a Vietnam veteran, Cimini has shared the healing potential of gentle movements, breath work and guided meditation through CYMI's Yoga Warriors classes. Specifically designed for veterans with PTSD or Combat Stress Injury, CMYI's Yoga Warriors currently includes even two World War II veterans now in their eighties.
Yoga Warriors focus on being centered and on opening up the heart. Emotional healing and retraining the mind-body connection moves the former soldiers "into the present moment, out of their brains and into their bodies," says Cimini. Because of their wartime experiences, many veterans with PTSD actually disassociate from their physical bodies as the mind tries to numb and suppress the painful memories. "Some are so outside of their bodies that they can't even feel their feet," she notes.
Guiding PTSD veterans to healing requires special attention. Neuroscience has found that environmental cues such as physical surroundings can be extremely powerful triggers for persons suffering with PTSD. "We're really aware in Yoga Warriors of different triggers," says Cimini, "and all the props the class uses such as bolsters, blankets and belts, lighting, and even sounds outside the studio are all considered."
Veteran Resources
Central Mass Yoga Institute, West Boylston, MA, (508) 835-1176, www.centralmassyoga.com, Yoga Warrior classes for combat veterans, Thursday a.m. classes free.
www.eft4vets.com, (603) 746-2328, Confidential website helping veterans and their families heal.
www.thereandback-again.org, Provides reintegration support services to veterans returning from Iraq/Afghanistan.
VA Department Suicide Prevention Hotline, 800-273-TALK (8255).
NOTES
1. United States Department of Veteran Affairs. http://www.va.gov/
2. CNN.com. "Study: Suicide risk double among male US veterans." http://www.cnn.com/2007/HEALTH/06/11/vets.suicide/index.html
3. Rand Health. "Invisible wounds: mental health and cognitive care needs of America's returning veterans. http://www.rand.org
/pubs/research_briefs/RB9336/
Gail Lord is a freelance writer in Massachusetts.
See also:
Bringing Peace Home With Our Troops
Musings: Welcoming Veterans Home