Spring/Summer 2016 Book Reviews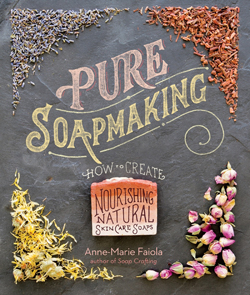 Annie-Marie Faiola
Pure Soapmaking: How to Create Nourishing Natural Skin Care Soaps
Storey Publishing, North Adams, MA 2016
Trying to avoid GMO's, animal testing and reduce the amount of synthetic ingredients in your life? Leave the harsh ingredient filled commercial soaps on the shelf and try making your own! Pure Soapmaking shows you how to use chemistry to combine nourishing oils and healing fragrances to craft beautiful cold-processed soaps that lather and cleanse luxuriously. Thirty-two formulas are photographically displayed step-by-step, and since you're the maker you can customize for your own skin's needs. Gentle and moisturizing, the unscented, uncolored Oatmeal Soap for Babies made from olive oil and soothing chamomile is a good beginner recipe, as is the 100% Castile-Brine Cube. The Gardener's Scrub is extra scrubby and exfoliating when made with large coffee grounds, and gentler when made with a finer grind.
You control the additives in your soap, and while all-natural ingredients are healthiest for you, depending on how they're sourced they might not be healthiest for the planet. For example, palm oil, used for lather and bar hardness, comes from huge plantations in South Asian and African countries that often clear surrounding rain forests. This massive deforestation in Borneo and Sumatra has destroyed nearly 90 percent of the orangutans' habitat, leaving orangutans on the Endangered Species List. Sun bears, clouded leopards, Sumatra tigers, and proboscis monkeys are also affected by this illegal and unsustainable logging practice. While over half the recipes in Pure Soapmaking don't include palm oil, if your preference is to work with the formulas that do, certified sustainable palm oil (CSPO) is available. The Roundtable on Sustainable Palm Oil not only certifies that CSPO is sourced in a way that is non-destructive to primary forests or areas or biodiversity, but also advocates for fair worker treatment. Phosphates, linked to algae bloom in streams and rivers, are another ingredient you can avoid when making your own soaps. A creative consumable way to express yourself, handmade natural soapmaking brings forth your inner artist to nourish your skin in good conscience while being kind to be environment.
---
Sue Quinn
SuperFoods: 65 Recipes for Optimal Health
Ten Speed Press, Emeryville, CA 2015
Mimicking the low fat and low carb trends, super foods now exist in every niche of the grocery industry. Walk the aisles and you see everything from super food caramel popcorn to neon wrapped super food breakfast bars targeted at children that contain a few blueberries along with artificial coloring and three types of sugar. If you want to be a health-conscious eater, how do you discern the healthy from the hype? Even though the term has been exploited by grocery marketers, exceptionally healthy food does exist, and home cooks and conscious eaters who shop primarily in the vegetable aisles reap the benefits. Super Foods Every Day shows you how to easily combine powerhouse ingredients to create 65 nutrient-dense tasty dishes. Unlike many food systems that rely on nutritional density (the measure of nutrients per calories) to determine the health value of a food, these approachable recipes are comprised of foods that have exceptionally high levels of vitamins, phytochemicals and other nutrients that promote good health and protect against a range of diseases. Each recipe features a two-page spread; the ingredients largely and colorfully displayed with their vitamins and key nutrients on one side, and the completed plated dish and health benefits on the other. This format lets you easily see at a glance if you have the ingredients in your fridge or pantry for a particular recipe, and also helps you tailor your menu to you and your family's health goals. Four-ingredient Strawberry Superspread (strawberries, lemon, honey and chia seeds) takes just 15 minutes and a potato masher to prepare and contains vitamin C, magnesium and calcium plus a host of other important nutrients to protect against heart disease, rheumatoid arthritis and support your immune system. You can help lower your cholesterol, regulate blood sugar, and support bone and eye health with the Power Plate featuring acorn squash, Greek yogurt and beet greens. Whether you make one plate or decide to share, filling your diet with nutritious real super foods is energizing and tasty.
---
Laura T. Coffey, with Photographs by Lori Fusaro
My Old Dog: Rescued Pets with Remarkable Second Acts
New World Library, Novato, CA 2015
Have you ever adopted a rescue dog? If so, you know the unbelievable devotion and love of an animal friend who wants to thank you for a second turn at life, while vastly improving yours! My Old Dog is a celebration in photographs and stories of the hearts and lives of an endearing class of rescues, older senior dogs, and the lucky people who chose them as companions. Senior dogs, those mature pups age seven and older, tend to be house-trained, sweet, easy-going, and loveable, yet they're regularly the most high-risk population at shelters (in the U.S. four million dogs and cats are put down each year). Once sprung, however, these worldly and wise creatures can be the most amazing family members, helping struggling veterans, widows, movie stars, nuns, children in hospitals, and just about anyone who needs a friend. And as singer-songwriter Neko Case points out, these masters at living in the moment deserve their own special category: The Most Grateful Dogs on Earth.
Worried you can't handle the needs of an older dog? Three New York women in their seventies and eighties with a collective 179 years serving as nuns strolled into a shelter and made what they thought was a perfectly reasonable request; show us a dog nobody wants. Gentle unadoptable nine-year-old pit bull Remy with the stiff left hip soon filled their small no-frills convent with happiness. Internet sensation Marnie, a 12-year-old shih tzu with a tilted head and lolling pink tongue, left behind her matted fur and her shelter name Stinky and now has a remarkable second act that includes posing for selfies with Tina Fey and Betty White. Marnie also has more than one million followers on Instagram. If a book can convey the power of hope and love in the golden years, My Old Dog has done the trick.
We never know how much time we'll get with our loved ones, including our four-legged companions. If you have it in your heart to adopt a senior dog there are lots of resources to help you; some will even help with vet bills for the rest of the dogs life. A few are:
Yankee Golden Retriever Rescue, Hudson, MA, www.ygrr.org
Transportation For Pets in Need Wings of Rescue, www.wingsofrescue.org
Mission K9 Rescue brings retired military and contract working dogs back to the United States and finds homes for retired law-enforcement dogs, Missionk9rescue.org
---
Jamy and Peter Faust
The Constellation Approach: Finding Peace Through Your Family Lineage
Regent Press, Berkley CA 2015
Clan, tribe, family — whatever you call it, we all come into this world following the footsteps of our ancestors. The energy of their joys and despairs linger in the family lineage long after the ancestors have moved on. Regardless of time and space, certain threads of consciousness connect family members, and family patterns and wounds are passed down from generation to generation. The Constellation Approach is a unique and creative therapeutic method that acknowledges both subtle energies and large familial energetic fields, and works with Soul consciousness to heal ancestral legacies. A constellation is the placement of members of a family extending through several generations. Each person, including you, represents a star in the constellation. You and your relationships are part of the unique patterns created among the various star family members, and this dynamic continues regardless of whether your family members are alive or deceased or whether you know them are not. Working with representatives, stand-ins for the family members, the constellation reveals bonds, often unspoken and unconscious, that you share with family members, both living and deceased. Unlike typical family therapy that tries to uncover these bonds and hidden feelings with a series of probing questions, The Constellation Approach incorporates "statements of empowerment" that an individual says to a family member or a stand-in representative. These statements come forth with such truth that individuals are released from unpleasant long-standing patterns of disconnection and negativity.
Biologically we each have two parents, four grandparents and sixteen great-great grandparents. Follow your DNA back 10 generations and you'll discover 2,046 people in your direct ancestral line! Our family lineage from both sides stretches out behind us like two great wings; our father and his parents, grandparents and great grandparents on one side, and our mother and her parents, grandparents and great grandparents on the other. With The Constellation Approach we can bring healing to these wings as we live in the stream of consciousness that travels from all our ancestors and ends with us, until we become the ancestors.
---
Carole Guyett
Sacred Plant Initiations: Communicating with Plants for Healing and Higher Consciousness
Bear and Company, Rochester, VT 2015
Our evolving planet is at a turning point, and herbalist wise woman Carole Guyett feels Earth herself is transforming from mother to grandmother. The realms of Grandmother Earth — mineral, animal, human and plant — are evolving at different rates. The plant world offers us the gift of its transforming powers, expanding our consciousness, raising our vibration and even adjusting our DNA. In Sacred Plant Initiations Guyett shares the shamanic practice of plant dieting, a sacred and ceremonial way to deeply connect with a plant and experience it as a conscious spiritual being. The plant diet includes spending time with the plant before harvesting, ingesting small amounts, and dreaming with it. As you come to ceremony with the plant you learn the only requirement is simply that you recognize the sacredness of the plant in a way that has meaning for you personally. Plants are our elders; they have much to teach us. In the West, psychoactive visionary plants such as ayahausca, sacred mushroom and peyote are usually considered the master teachers, but Guyett works with more common plants; primrose, dog rose, elder and dandelion. These plants that live close to us are well known as medicinals, and as you come into relationship with them you find that they, too, have magnificent healing, even psychotropic, powers.
Dandelions, for example, live just outside our doors. We are supposed to use them! As hard as our neighbors may try to eradicate the local dandelion population, they return every year with their sunny yellow faces. They teach us tenacity. Individual dandelion plants can have long lives, its fleshy taproot digging deeper down into the earth each year, reaching as far as fifteen feet down. As it reaches down it detoxifies the soil around it in the same way it expertly detoxes our livers. Dandelions share the wisdom of being on Earth a long time; dandelion fossils have been found dating back over a hundred thousand years. (How curious to think Monsanto's weed eliminating Roundup would try to take on these prolific survivors!) If you sometimes feel overwhelmed by all the problems facing our planet, and wonder if there is actually anything to be done, take heart. Transformation is the answer and if we listen to the plants they will be our guides. "The plant world comes with a generous heart offering to dream with us and to help us find a new way forward."
---
Dr. Mike Dow
The Brain Fog Fix: Reclaim Your Focus, Memory, and Joy in Just 3 Weeks
Hay House, Carlsbad CA 2015
To feel great, keep your memory sharp, and keep yourself from joining the ever-growing overstressed brain fog nation, you need optimal brain health. Unfortunately, the hectic pace we try to maintain and the less-than-stellar food choices we sometimes make can muck up our brains. Do you have the blues? Are you forgetting things? Do you sometimes say, "I just don't feel like myself"? While it's a great practice to pull yourself out of a slump with the power of positive thinking, if your brain chemistry is out of whack willpower and all the daily affirmations in the world won't cure what ails you. The Brain Fog Fix is a three-week step-by-step physical mental and spiritual program to reverse brain fog through the support and rebalancing of your glorious brain.
The 21-day program works by giving your brain what it needs, including proper nutrients, exercise, purpose and meaning, and removing obstacles that fog your brain, including too many inflammatory foods, an unbalance of omega six and omega-3 fats, and a bombardment of social media texting and tweeting. It rebalances your brain's most vital hormones — serotonin that helps you feel calm, dopamine, the pleasure hormone, and cortisol that pumps you into high gear. The first week of the program improves your mood by cleaning up your diet and changing the way you think. If you think tuna is healthy eating, think again. "Premium" whole white albacore has three times more mercury than the much cheaper chunk light tuna (but neither of them are great for you). Week two is about energy, using sleep and neurogenesis to take you from scattered to sharp. Brain neurogenesis is all about "use it or lose it" and brain games are included to keep your brain active. The program finishes with moving from aimless to inspired as you reclaim your life's purpose and recommit to something larger than yourself.
---
Karen Salmansohn
Instant Happy Journal: 365 Days of Inspiration, Gratitude and Joy
Ten Speed Press, Emeryville CA 2015
Our day consists of 20,000 individual moments according to Nobel scientist Daniel Kahenman, and each of these moments last merely a few seconds. Research shows that people who focus daily on positive moments and experiences are happier and more optimistic about their future than people who focus on the hassles they encounter. The colorful Instant Happy Journal helps you reflect on and grow your awareness of those good moments. It creates a conversation with yourself that highlights a year's worth of delight and gratitude. With happiness prompters and thought-provoking questions, working with the journal also inspires appreciation for events and situations that at first may seem less than ideal. It's easy during our busy days to encounter technology glitches and, thus, so often write off technology as a hassle, but what if we consider how technology made our lives happier today? When we give daily attention to the good things happening around us, it's reflected in the quality of our lives.
UCLA researcher Matt Lieberman discovered you can calm your negative emotions by fifty percent simply by naming them. The act of consciously observing your emotional states such as anger, shame, disappointment and sadness halves your brain's amygdala activation. If you've been feeling a negative emotion, name it, then replace that word with one that is more comforting, such as calm, forgiveness, surrender or acceptance. Contemplate the positive replacement word over and over. Use it as a mantra. Another way to up your happiness quotient is to start doing more things outside. A mere twenty minutes outside in good weather will broaden your thinking, improve your working memory and boost your mood. And while you're out there you can silently send people your love love love; beam people with blessings! That will make you happy too!
Gail Lord is a freelance writer living in Massachusetts. Please send book review copies to 51 North Street, Grafton, MA 01519 or email socbookreviewer@gmail.com.
See also:
Fall/Winter 2015 Book Reviews
Summer 2015 Book Reviews