The Bushman's Way of Tracking God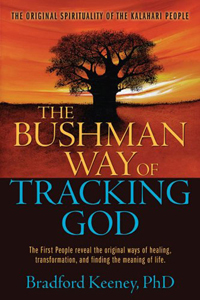 The Bushman's Way of Tracking God
Bradford Keeney, PhD, Beyond Words, Hillsboro, OR, 2010
Imagine living in a society brimming with music, joking and joyful dance. A place where conversation and social connection are the lifeblood of the community. Good-natured teasing among the group leads not to hostility, but to giggling, bringing everyone down to the same level. Can you imagine a society who's never seen war in over 60,000 years? A society who knows how to find God? Meet the Kalahari, the oldest human inhabitants of Southern Africa, and quite possibly the oldest culture on Earth. The Bushman's Way of Tracking God: The Original Spirituality of the Kalahari People is university professor, therapist and unique researcher Bradford Keeney's wild and electrifying stories of these extraordinary people. Incomprehensibly called to the Kalahari people in one of his dreams, Keeney traveled to their homeland and was astonished to find them expecting him. For a period of nearly twenty years the Bushman's secret ancient way of working with spirit transported Keeney out of this world, and back again.
The Kalahari don't have libraries or even a keeper of their oral tradition. Words are tricksters, only good for teasing one another. Their words and sounds come to them inspired by God after they meet with the divine. Kalahari spirituality isn't passive; they don't sit and wait to hear the voice of God. Instead, they use their expert tracking skills. They are tracking n|om — the universal life force, the holy energy, the juice. In playful community they dance and clap and shake ecstatically until they have so much fire they "get cooked." Open and awakened, the divine awaits. When the channel is fully open, God throws down a rope from the heavens. The poet Rumi wrote, "reach for the rope of God." Keeney shares the deep-rooted spiritual universe of the Kalahari so Westerners can begin tracking the divine, climb the rope, and find God.
Gail Lord is a freelance writer living in Massachusetts. Please send book review copies to 51 North Street, Grafton, MA 01519 or email socbookreviewer@gmail.com.