The Inner World of Farm Animals: Their Amazing Social, Emotional and Intellectual Capacities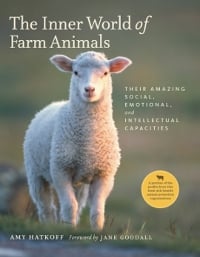 Amy Hatkoff
The Inner World of Farm Animals: Their Amazing Social, Emotional and Intellectual Capacities
Stewart, Tabori & Chang, New York, NY, 2009

Amy Hatkoff's The Inner World of Farm Animals will make you want to put on boots and head to the barn. Hatkoff uses research, amazing storytelling and expressive photographs to reveal the personality, emotions and loyalty of the oft-overlooked farm animal. Pigs are recognized as intelligent, but they also have a fascinating capacity to form close relationships. Hatkoff re-tells the story of sister pigs, Bacon and Eggs. Bacon went missing; for several evenings Eggs dined alone. Bacon was eventually found alive, pinned under a tree. She was sustained by munching a nest of fresh grass Eggs placed in front of her each day. Cows also form close bonds, as witnessed by one farmer who said when cow Debbie passed away, all the other cows lay down on the grave and just cried and mooed. The whole mourning cow group went off together somewhere on the farm's 400 acres and didn't come back for grain for two days.
According to Gandhi, "The greatness of a nation and its moral progress can be judged by the way its animals are being treated." In terms of farm animals, the moral progress of our nation has a long way to go. But positive steps are being taken, and government officials are beginning to acknowledge evidence about the cognitive, social and emotional capacity of farm animals. Gestation crates too small to allow confined pregnant sows to turn around in are now banned in several states. Renowned chef Wolfgang Puck won't use veal from producers who crate calves, and veal crates are now banned in some states. The progress in protecting farm animals is slow, but it is happening. The Inner World of Farm Animals adds one more valuable step to the publics' growing concern for the well being of these incredible sentient creatures. (A portion of the profits from this book will go toward animal-protection organizations.)
Gail Lord is a freelance writer living in Massachusetts. Please send book review copies to 51 North Street, Grafton, MA or email socbookreviewer.com.