The Power of Compassion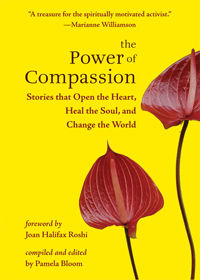 The Power of Compassion: Stories that open the heart, heal the soul, and change the world.
Pamela Bloom, Hampton Roads Publishing, Newburyport, MA, 2010
Pamela Bloom, Hampton Roads Publishing, Newburyport, MA, 2010
Compassion is universal. And yet, says Pamela Bloom, there is a "special flavor" Buddhist teachings can bring to the understanding and experience of compassion. First published a decade ago, The Power of Compassion: Stories that Open the Heart, Heal the Soul, and Change the World is much needed in these perplexing times. Bloom's compilation of stories gathered pre-9/11, pre-Katrina, pre-war in Iraq and Afghanistan, remind us that compassion is transformative. It helps us deal with anger and grief when we are seething with outrage and stung by betrayal. Through compassion we find the dynamic healing power of acting on behalf of others.
Humanity, more connected than ever before, has a larger opportunity and mandate to practice compassion than ever before. Around the globe, cell phones and satellites can be used to start wars and riots, but they can also be a means to organize peace rallies and heal long-distance wounds. Bloom's passages travel from John F. Kennedy, Jr.'s experience meeting the Dali Lama in Dharamsala, to convicted felon Jarvis Jay Master's experience of being a Buddhist on death row in San Quentin. Other stories reveal unexpected peace, such as Michael Damian's experience with his devout Catholic, terminally ill mother. Always loving to others and eager to serve, Michael's mother didn't treat her own Buddhist son with the same kindness. This left him with much confusion. Yet as Michael attended to his suffering mother, he truly wanted her to find peace in her Christian practice. At her bedside, praying first with his own mala beads, then with his mother's rosary beads, the son's two prayers became one. The differences between traditions, between child and mother, simply dissolved. The woman took her last breath, dying easily on Mother's Day. As Mother Theresa said, "Religion has nothing to do with compassion."
Gail Lord is a freelance writer living in Massachusetts. Please send book review copies to 51 North Street, Grafton, MA 01519 or email socbookreviewer@gmail.com.