Top Tips For Eating Well On Vacation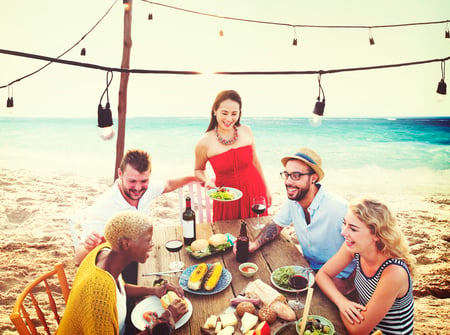 So many of us are trying to improve our diet and lifestyle to keep ourselves healthy, but when summer rolls around and we pack our suitcases and head off on holiday, it can be difficult to avoid temptation.
Eating well when you are on vacation doesn't have to be difficult and it doesn't have to feel like you are missing out. It is all about trying to adapt and find the same balance you have achieved at home.
Before you travel anywhere it's important to make an eating plan and pack sensibly any foods or snacks you might need to help you keep on track, although be sure to check airline rules about packing food before you travel.
Cook At Home
If you're staying in an apartment or villa that has its own kitchen facilities, make the most of them. Stocking up your fridge on the first day will motivate you to cook in instead of eating out throughout the week. Making meals at your vacation home can be fun and memorable, as well as being a much healthier option. It will also help you avoid excessive restaurant portion sizes.
Eat Local Produce
Most cities and towns have their own produce markets during the week. Find out when they are and plan a visit. Not only will you get a feel for the local culture, you'll be able to find in-season, local produce to eat and enjoy all the local flavors in the healthiest way possible. It can also be fun bartering with the locals, although it is best to follow the lead of locals to find out whether bartering is acceptable.
Bring Some Snacks
If you are heading out for the day, don't forget to bring plenty of water and snacks with you. Keeping hydrated and well-fuelled will prevent your craving sugary and fatty snacks from the nearest shop to give you a quick boost of energy.
Treat Yourself Occasionally
Depriving yourself completely of any particular food experience is not going to help you feel motivated or make healthy eating enjoyable. Instead, limit the amount of treats or meals out you have so you aren't over indulging. Have an ice cream if you want an ice cream, but don't be tempted to splurge and eat continuously just because you are on vacationing. There's no point feeling guilty if you do give in to temptation; you can always make tomorrow a better day.
Make Good Choices When You Eat At Restaurants
Eating at restaurants is part of the enjoyment of vacation. It's a chance to relax, unwind and immerse yourself in the local culture. You can still eat healthy and eat out if you make informed choices. Many restaurants now advertise the nutritional value of their meals, so use this guide if it's available. If not, consider the choices you usually make: opting for grilled meat over fried and choosing a side salad instead of chips can be ways to make eating out healthier. Restaurant meals are usually a lot bigger than those we would make for ourselves at home, so try to eat consciously and only eat until you are full, rather than challenging yourself to clear your plate.
Stay Active
It is easy to add in lots of exercise while you're on vacation. Whether it is hikes to explore your surroundings or organized activities like yoga or water aerobics around the pool, get involved with some form of exercise during your stay. Walk instead of driving or using public transport wherever possible. Keeping active will help to balance out the impact of any treats you may be tempted to have while on vacation. It will also keep you motivated to make healthy choices.
Health Insurance
It is also important to make sure you have renewed your EHIC card, by visiting https://www.ehiccardrenewal.co.uk, to ensure you are covered for any medical treatment you might need while you are away. US residents should check ahead with their individual health insurers for the rules applying to medical coverage while traveling.
Damien Troy is a notable author who loves writing across a range of topics and channeling his personal experience and expertise.
See also:
Ten Tips For Maintaining A Well-balanced Diet
21 Reasons To Eat Real Food