When All You Have Is Time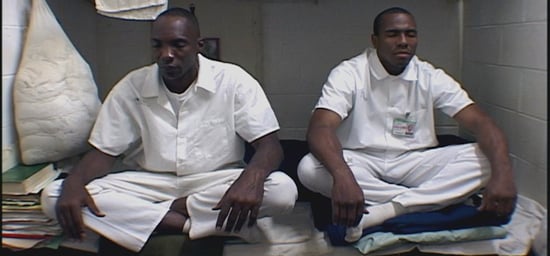 With more than 2.3 million people in jail in the United States today, our country leads the world in number and percentage of incarcerated residents. One in 100 adult Americans is locked up; 97% will eventually return to the community. Wouldn't society benefit by mending these broken people? In the far-off setting of one of the country's worst prisons, the oldest of Buddhist meditation practices offers an alternative to the violence and hopelessness of our correctional system. Vipassana meditation offers inmates the chance to begin seeing things as they actually are and join together as "Dhamma Brothers" to shine healing light on dark and hidden places.
Donaldson Correctional Facility is not a nice place. Here are society's convicted murders, rapists and thieves. Known as "the House of Pain," this maximum security prison in the deep south is crowded with rage and misery. It's a breeding ground for violence, the end of the prison line. Inmate OB Oryang describes it this way: "Donaldson is a crazy place. The most incorrigible in the Alabama prison system are put here, the high-risk people and the people who are unmanageable at other prisons. It's a jumble of confusion, a jumble of violence. Nobody is immune to it. The past two weeks have seen evidence of that. Two prisoners killed another prisoner last week, and there were seven stabbings…"
"You are more than the worst thing you've ever done."
Jenny Phillips, a cultural anthropologist and psychiatric nurse from Concord, Massachusetts was inspired to enter Donaldson after learning that prisoners in this harsh environment were teaching each other how to meditate. Inmate R. Troy Bridges (serving life without parole) began leading prisoner meditation study groups based on a Lionheart Foundation book Houses of Healing he found while working in the prison library. In six years the group grew to over 300 meditating inmates. They wanted to expand on the Houses of Healing program; they wanted to go deeper with their meditation practice. But they didn't know how.
What Phillips found at Donaldson were prisoners — human beings — suffering greatly and tremendously motivated, but incapable of finding another path. They wanted to look at the past, and at their crimes, but they lacked the skills. Anger management as taught in prisons everywhere is mostly anger suppression; for an inmate population permeated with fear and aggression it is "whipped cream on garbage," and doesn't help people heal. The inmates, some serving multiple life sentences, had only hopelessness as a framework. "Life without parole doesn't mean that you're to be punished, or worked, or any of that," said inmate Grady Bankhead. "It means you're to be warehoused till you die."
Searching for solutions to their chaotic lives, these prisoners were hungry for whatever bit of deliverance they could find behind bars. Philips was convinced Vipassana (pronounced Vy-PASS-uh-nah) meditation was the answer. Taught and practiced at Vipassana Centers throughout the world, Vipassana is not a relaxation method or a religion. There are no gurus or rituals or mantras. Vipassana is a set of very structured meditation techniques for addressing inner issues as practiced and taught by the Buddha 26 centuries ago. Sitting in noble silence for 10 days for 10 hours a day, 100 hours of meditation, students observe sensations in the body, moment by moment, recognizing the impermanence of nature. Penetrating self-observation reveals the causes of one's suffering, and the suffering one has caused others. Deep insight also provides the path for overcoming the suffering. A Vipassana retreat includes sitting, rest, vegetarian meals, teacher interviews and lot of training and support. Students are required to undertake the five precepts; to abstain from killing any being, from stealing, from all sexual activity, from telling lies and from all intoxicants.
Philips knew of the success of Vipassana for violent criminals through the film Doing Time, Doing Vipassana. This documentary chronicles the introduction of a large Vipassana course to 1,000 inmates in Tihar Jail, India's largest prison, and the subsequent decline in violence and improvement in quality of life at the jail. Guided by the Vipassana Meditation Center in Shelburne, Massachusetts and prison psychologist Ron Cavanaugh, and with the advocacy and support of the Lionheart Foundation (a publicly supported non-profit dedicated to bringing prisoners tools, opportunity and inspiration to heal while incarcerated) the Alabama Department of Corrections approved the program at Donaldson after much negotiation, making it the first state prison in North America to hold a Vipassana course. Phillips documented Vipassana at Donaldson in the award-winning film The Dhamma Brothers; East Meets West in the Deep South.
In order to adhere to the exacting Vipassana program requirements, two Vipassana teachers moved into the maximum-security prison, living with the meditation students 24 hours a day for a total of 11 days. They slept in the gymnasium along with the students, but, at the warden's insistence, in a separate locked area. By rearranging the room, hanging curtains to create separate sleeping places for each student, bed mats were rolled out, carpet (from the warden's home) was put down and meditation cushions were set on the floor. The west gym in the "House of Pain" was transformed. "It had something holy about it," said an inmate. They spent 11 days in this "ashram" together; an ashram, which the day before as the prison gym was often the setting of brutal aggression; an ashram, behind double barbed-wire, locked, with a correction officer on guard at all times.
But inside, the seeds of transformation were growing. Completely isolated from the general prison chaos outside, 20 Vipassana students began their journey. Their seclusion was not punitive; it was for their privacy and benefit. Their needs were attended to by their teachers. But, as a teacher reminded, "We can't really do anything. Our job is just to give; it's up to the men." Vipassana is not soft on prisoners. For inmates whose identity often relies on posturing, on having the right walk, the right display of aggression, Vipassana offers only truth, only "seeing things as they actually are." Students must enter the frightening prison of the mind. A tough gang leader confided, "I don't know if I can do this. I'm a really angry man." With the reassurance of the teachers, the student returned to his cushion.
If we're ever going to solve the problem of violence in our society we're going to have to find ways that closed hearts can open and broken lives can mend. —Joan Borysenko Ph.D., board member, The Lionheart Foundation
During the rigorous first three days, 30 hours of meditation, the students rose with a 4 a.m. waking bell and practiced only anapana, "awareness of respiration." This scientific breathing technique is merely observing the breath enter and exit the area just below the nostrils. There is nothing to focus on, no mantra, prayer or candle. The goal for the students, sitting hour after hour, trying not to move as the monkey mind goes running wild, is simply to slow the mind. On the fourth day, the students again awoke with the 4 a.m. bell. ("I would hear this sound I'm not used to and it means it's time to get up," said Vipassana student Rick Smith, serving life without parole. "I would learn to hate that sound.") For the remaining days, students meditated by observing the body, moving from one part to another. Through this deep, internal process a lot of mental suffering is uncovered; toxic emotions surface. Each student experiences an "inner storm," a deep sense of fear, rage and depression. Students, overwhelmed, would jump from their cushions and, ironically, try to escape from the gym sanctuary back to the prison. But eventually, after many days and many hours of constant support, the meditating inmates glimpsed inner freedom. Vipassana helped the men to understand the conditioned responses of their minds. It helped them to see that a person's reaction to a given situation is a choice. A corrections officer said the individuals in the program were "more relaxed, easier to get along with and don't cause as many problems."
Vipassana also helped the men realize the full impact of their crimes. "I'm up on capital murder," says Grady Bankhead, "but that's not what it was. It was a slaughter." After being on death row for eight years, Bankhead was returned to the general population to face the rest of his life at Donaldson. Like others, he depends on Vipassana to navigate the reality of his daily existence, to keep him from constantly clashing with other prisoners, with support staff… and with his own past. As a child of five, dressed in his best clothes, Bankhead and his three-year-old brother were driven by their mother to an abandoned house in the country. She told Bankhead to wait on the porch and take care of his little brother until she came back for them. They stayed on the porch all night and in the morning found a hubcap filled with rain water and a dead bird. These were their rations till they were found several days later. Bankhead's baby brother later died. Bankhead, filled with guilt, always blamed himself. He never saw his mother again until he got to death row. Family history doesn't excuse behavior, but it does help to explain it. Isolated and victimized with no one to trust, a child's whole life begins to unravel.
Criminals, people who commit crimes, usually society rejects these people. They are also part of our society. Give them some form of punishment to say they were wrong, but show them they are part of society and can change. Show them compassion." — His Holiness, Dalai Lama
In the ancient Pali language of the Buddha, "dhamma" (or "dharma" in Sanskrit) translates to "the pathway to wisdom." The meditating inmates named themselves "Dhamma Brothers" in honor of their new found pathway, their individual and communal devotion to self-awareness and spiritual growth. After the 10-day course they continued meeting for daily meditation, with longer sits once a week. Many of the general prison population rejected or simply didn't understand the meditating inmates, but some noticed the calm and non-reactive nature now present in the meditators. The value of the Dhamma community was expressed by one Dhamma brother: "Blessed, indeed, are those of us who dwell among the hating… and do not hate."
Several months later the prison chaplain, fearing inmates were being "turned" Buddhist, asked the Alabama commissioner to shut down the Vipassana program at Donaldson. Highlighting the often arbitrary nature of the penal system, the men were simply told they could no longer meditate. Devastated, they wrote letter after letter to Phillips and to the Vipassana instructors. Phillips compiled these letters in an emotional and fascinating book, Letters from the Dhamma Brothers. Many of the men continued their silent practices, and eventually, as unexpectedly as it was taken away, Vipassana was welcomed back to Donaldson.
As of this writing, Donaldson continues to run 10-day intensives, and there are hopes to install a permanent Vipassana unit in the prison with ongoing courses, similar to one in Tihar Jail in India. Exciting early academic research findings by the University of Alabama in collaboration with the Alabama Department of Corrections show the great value Vipassana programs hold for inmates. This may lead to program expansions. Additionally, Jenny Phillips is in communication with the Massachusetts Department of Corrections, pursuing the possibility of introducing Vipassana to the Massachusetts correctional system. The spring issue of Spirit of Change will include an update on these projects.
Gail Lord is a freelance writer in Massachusetts.
Inmate Resources
The Lionheart Foundation, P.O. Box 194, Back Bay, Boston, MA 02117. (781) 444-66674. www.lionheart.org. Publicly supported non-profit dedicated to bringing prisoners tools, opportunity and inspiration to heal while incarcerated.
Vipassana Meditation Center, Shelburne, Massachusetts. www.dhara.dhamma.org. Vipassana as taught by S.N. Goenka. All courses run solely on a donation basis. Donations accepted only from students who have completed at least one ten-day course and have experienced for themselves the benefits of Vipassana. Thus, Vipassana is offered free from commercialism.
Vipassana Prison Trust. www.prison.dhamma.org
Freedom From Behind Bars, "The Dhamma Brothers" (2007 film). A Freedom Behind Bars Production, Concord, MA. www.dhammabrothers.com
Letters From the Dhamma Brothers, Jenny Philips, Pariyatti Press, 2008. www.pariyatti.org