Healthy and Delicious Ways to Calm a Craving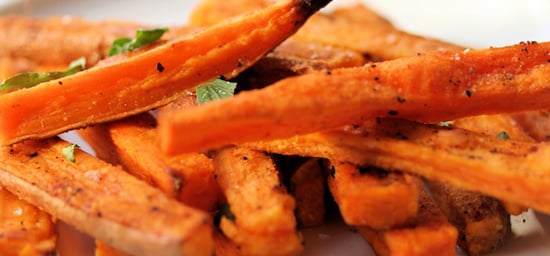 Let's face it, there are times when we all need to satisfy a craving or two, especially during holiday season, family celebrations or the end of a stressful day at work. Luckily, there are great choices that not only hit the spot, but offer some nutritional advantages as well. Most of us either have a weakness for sweet or salty foods, sometimes alternating between the two.
In fact, excess consumption of one will usually create a craving for the other. It's the body's way of trying to achieve balance. Whatever your pleasure, you can give in as often as you like if you follow a few simple rules.
Work snacks into your daily food plan. When an unexpected craving hits, don't make the food "in addition to" planned meals or you're likely to pack on the pounds regardless of how healthy the choice.
Make smart choices. You don't have to sacrifice; in fact your taste buds will thank you for choosing higher quality and bolder flavors and you'll likely eat less due to increased satisfaction.
Be prepared. Sometimes we're looking for immediate gratification; other times investing a little prep time is OK. Be prepared for both.
Pay attention to what cravings may be telling you. They may be triggered by nutritional deficiencies. Lack of vitamins and minerals triggers the body to crave what it's missing. Well-balanced meals will greatly reduce cravings for salty, sweet and fatty foods.
Have some fun trying new foods and creating new, favorite "go to" choices.
Snack Pantry Basics
Dates. They're not referred to as nature's candy for nothing. About as sweet as you can get, they're packed with vitamins, minerals and antioxidants, even some protein. All that and a good source of fiber, too. The most common varieties available are the Deglet Noor and the Medjool. Opt for the Medjool whenever possible. They're larger and richer in flavor and well worth searching for. The Deglet Noor are not as moist, so they're less sticky and easier to chop (great for adding to baked breads and cookies). I store my dates in a covered container in the refrigerator.
Chocolate. Select the best 70% chocolate you can find. The darker the chocolate, the richer in flavonoids.
Cocoa powder (unsweetened). Studies show it may help lower blood pressure and support a healthy cardiovascular system due to flavonoids. Avoid Dutch processed cocoa; the processing destroys the health benefits.
Nuts. A great way to add healthy fats to a diet and they've been shown to help satisfy appetites and reduce overeating at mealtime. I always have almonds, walnuts, cashews and pistachios on hand and store them in airtight containers in the freezer. I also love eating them straight from the freezer.
Potatoes. One of the ultimate comfort foods, potatoes can also be a healthy choice. When not prepared or served loaded with fat, potatoes provide fiber, vitamins and minerals, and they're very satisfying. Buy organic whenever possible as potatoes are labeled one of the "Dirty Dozen" for pesticide contaminated produce.
Sweet Cravings
You can't go wrong with any of these. I always keep them around for a teatime treat or to toss into a lunch box. Need a hostess gift or small take-home party favor for dinner guests? Make an assortment of treats, place each in its own paper liner and pack in colorful candy boxes. Homemade treats are always appreciated. And, there's no need to worry about most food allergies. All are gluten free and nuts are easily controlled if that's an issue.
* ENERGY COOKIES
Easy to make, a healthy choice and guaranteed to satisfy a sweet craving like no other. Using dates, raisins, apricots, etc., as the base for this cookie really boosts nutrition and ease of preparation. Have the kids help and once you've mixed everything together, it's easy for them to help. These are baked, but I have to admit that sometimes they never see the inside of the oven. We eat them as fast as we scoop them.
1/2 cup pitted dates or apricots
1 medium banana
1 cup coconut, shredded (look for brands with no added sugar)
1 teaspoon candied ginger, minced fine (use larger pieces if you enjoy the burst of ginger flavor and add after processing)
Preheat oven to 325 degrees. Toss all ingredients except the ginger in the food processor and process until a smooth consistency. Place in a small bowl and stir in the ginger. Spray baking sheet lightly with olive oil and drop dough by the teaspoon. Bake about 15 minutes; check after 12 minutes.
Alternative: In the mood for chocolate? Just a few adjustments to this recipe and no baking required! Toss it all in the food processor and form into walnut sized balls. For these, you need a one to one ratio of the fruit to the combination of everything else you add.
1 cup dried fruit (raisins or dates are best; choose one or a combination)
3/4 cup nuts (cashews, walnuts, pistachios)
1/4 cup cocoa powder

* CHOCOLATE BALLS
These will remind you of chocolate covered cherries, only you'll feel better about indulging. If you want them a little sweeter, add a touch of stevia (or your preferred sweetener) and taste as you go, adding a little at a time.
1 cup dates
1 tablespoon coconut oil
Up to half a teaspoon of cinnamon (adjust amount to personal preference.)
1/2 teaspoon vanilla
1/2 cup cocoa
3/4 cup of raw almonds or cashews, chopped
2 tablespoons dried cherries, chopped (blueberries or lavender also work well)
Toss everything except the nuts and dried cherries in the food processor and process until smooth. Remove mixture from the processor and place in a bowl. Mix in the nuts and cherries. Scoop out with a teaspoon, form into balls and place into small paper cupcake type liners. Place in refrigerator for 45 minutes. Store in a covered container in the refrigerator. (Note: If desired, roll in crushed nuts, coconut or cocoa prior to placing in the paper liners. For a slightly different flavor, roast the nuts first: add nuts to a dry skillet and roast over medium heat or spread on a baking sheet and heat in a 350 degree oven until you smell the nutty aroma.)
* STUFFED DATES
Have some fun with this one and vary the stuffing and coating. I like to place each date in an individual small paper liner and keep them on hand for the holidays. Select your favorite ingredients and play around with different combinations. Just determine how many dates you want, have the same number of nuts to stuff them with and place a variety of coatings in individual, small custard cups. Some of my favorite ingredients are almonds (raw, smoked, roasted/salted,) walnuts, peanut butter (piped into the date), coconut flakes, cocoa, melted dark chocolate and finely crushed nuts.
Slit the dates lengthwise and remove the pit (if un-pitted). Place a nut in each and squeeze the date closed. Next, either roll in coconut, cocoa, crushed nuts or dip in melted chocolate first (using two forks) and then into another coating. Store stuffed dates in the refrigerator in a covered container. Note: if using peanut or other nut butter, just place it in a plastic bag, snip off a corner with scissors and squeeze into the center of the date.
Salty Cravings
Opt for something other than popcorn when hungry for a movie night snack. Oven fries are one of my favorites. Turn it into a light meal by including a piece of All Veggie Quiche. The quiche holds up really well and is a good choice for potluck dinners. It's grain free so anyone who's gluten-free can indulge. For soy allergies, it's possible to substitute eggs or egg whites for the tofu.
* OVEN FRIES
Use both sweet potatoes and Yukon Gold for these. Cut the potatoes according to your preference. If you like steak fries, cut in thick wedges. If you prefer thin fries, cut them smaller. Either way, they're delicious. All you need to do is adjust baking time.
2 large potatoes cut in wedges
Olive oil spray
Sea salt
Freshly ground pepper, garlic powder, thyme, chili powder (spices optional)
Preheat oven to 425 degrees. Lightly spray a baking sheet with olive oil. Arrange potato wedges in a single layer and lightly spray with olive oil. Sprinkle with desired seasonings and bake for 25 to 30 minutes, turning over after 15 minutes.
* CRISPY CHIPS
Bake these in the oven and munch away guilt free. Start with some luscious Yukon Gold potatoes and then branch out and try other root vegetables. They'll keep a day or two if tightly sealed. You'll need a sharp chef's knife or a mandolin vegetable slicer to get the slices no more than an eighth of an inch thick.
1 large potato, sliced very thin (or sweet potato/root vegetable)
Olive oil spray
Sea salt
Freshly ground pepper, cayenne pepper, nutritional yeast (optional)
Pre-heat oven to 400 degrees. Slice potatoes and lightly coat each side with olive oil spray and season with salt and pepper or other seasonings. Lightly spray a baking sheet with the olive oil spray and arrange seasoned slices in a single layer. Bake for 20–25 minutes, or until crisp. Remove from oven and cool.
* TOFU STICKS
Whenever I'm roasting vegetables, I always toss in some sliced tofu sticks. They come out wonderfully crispy and are great eaten "as is" or cut up and tossed on a salad. To make the sticks, place the block of tofu on the cutting board. Slice in half. Turn it on its side and slice in half horizontally. Flip the block back over and slice into three equal parts. Repeat with other half of block. You'll end up with 12 sticks of tofu.
1 package extra firm tofu, cut into 1-inch sticks
Olive oil spray
Sea salt
Freshly ground pepper
Garlic powder (or other preferred seasoning)
Preheat oven to 425 degrees. Lightly spray the baking sheet with olive oil and arrange the tofu sticks on the sheet so that there's space between each stick. Lightly coat the tofu with olive oil and season with salt, pepper and other preferred seasonings. Bake for 40 minutes. Eat as is, use to top salads or dip sticks into your favorite sauce.
* ALL VEGGIE QUICHE
This is my favorite quiche and I usually make it at least once a week. I slice a thick wedge to pack for lunch the next day and serve it with a crisp chopped salad. I've included my favorite veggies in the recipe, but it's easy to swap out your favorites or add a few more. Adjust seasoning amounts and choices to your personal preferences. It's also a great way to use up leftover vegetables. Just roast the cauliflower and fill with any veggies you have on hand.
1 large cauliflower, chopped
1 large stalk broccoli, chopped
1 large onion, sliced one-inch thick
1 large portabella mushroom, chopped
2 cloves garlic, roasted
1 package silken tofu
1 teaspoon turmeric
1/2 teaspoon sea salt
Freshly ground pepper to taste
Dash of hot sauce (optional)
Olive oil spray
Preheat oven to 425 degrees. Place chopped cauliflower in a single layer on one baking sheet. The broccoli, onion, mushroom and garlic will cook up faster, so placing them on another sheet ensures best results. Roast the veggies until browned, about 40 minutes for the cauliflower and 30 for the other veggies. Remove from the oven and let cool slightly. Reduce oven temp to 350 degrees.
Lightly spray a 10″ pie pan with olive oil and place the cauliflower in the pan (reserve a half cup of cauliflower). Using your hands or a large spoon, press the cauliflower along the bottom and sides of the pan to form your pie crust. Arrange remaining vegetables in the "crust," except for a few rounds of onion and the garlic cloves. Your vegetables should fill the pan.
Place the tofu in a blender or food processor. Add the reserved cauliflower, onion and garlic, turmeric, salt, pepper and hot sauce, if using. Blend until smooth and creamy. Pour tofu mixture into veggie filled pie pan, swirling pan as needed to ensure equal distribution. Bake until nicely browned, about 30 minutes. Remove from oven and let cool slightly. Cut into wedges and serve.
Michelle Hirsch is a graduate of the world-renowned Kushi Institute where she also worked developing curriculum. She is the author of Venturesome Vegetarian and can be contacted at mphirsch@yahoo.com.
Find holistic Food and Cooking in the Spirit of Change online directory.