Medicinal And Refreshing Iced Herbal Teas For Summer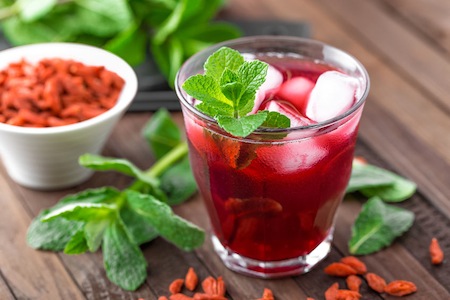 In the heat of the summer we are drinking glass after glass of water. What if we replaced some of that with a refreshing and medicinal iced herbal tea?
Herbal teas are easy to make and will keep for several days in the fridge. There are endless varieties and variations and very few rules when blending summertime herbal teas. You can add black or green tea for a caffeine kick, or you can brew up something more calming and relaxing. You can make a tart and fresh tea with tangy herbs like hisbiscus or elderberry, or something more bitter and digestive like orange peel or damiana, or even a tea designed to support energy and focus without the stimulation of caffeine.
The teas can also be used as the bases for other drinks such as sparklers with bubbly water, or as the start of a creative cocktail, or you can even add a bit of juice to increase hydration and offer some sweetness. And these teas are great for kids!
There are three basic methods for making herbal iced teas and sometimes you just have to experiment, or mix methods, to get it right. The different methods are based on the type of herbal material you are using and the desired outcome.
1. Hot infusion method: This method involves using dried herbs and hot water and steeping the herbs for the desired time. You can boil up a pot and toss in the herbs, cover (for about 5-10 minutes), strain, and then chill. This (or method #3) is best for the more delicate parts of the plant (leaves and flowers), or those with a lot of oils (aromatics). The longer you steep, the stronger it will be (with the exception of herbs like chamomile or peppermint with a lot of delicate oils which tend to leave the pot and go into the air. For those herbs you want to steep covered for a few short minutes).
2. Hot decoction method: This method is best for sturdy plant parts such as roots, barks, and seeds. In this method, you boil the plants in hot water, gently covered, for about 15 minutes. Strain and cool. In methods #1 and #2 it's best to let it cool to room temperature before you place it in the fridge. Once you do it should keep for 3-4 days.
3. Sun (or moon!) infusion method: This method works best for delicate parts of the plant such as leaves and flowers, and can also work well with fresh herbs to make a subtle herbal water with the living essence of the plant. Gather your fresh (or dried) plants and place in a large glass jar or a large bowl and cover with water. For a lunar infusion, you can cover it with plastic wrap or a glass plate to let them moonlight in (without the bugs having a drink). Let it steep for at least a few hours in the hot sun and you can drink it as it or cool it down. Sun and moon infusions last for just 1-2 days because they weren't cooked in the process.
​If you aren't feeling ready to make your own blends, you can try these below. But feel free to get creative!
Refreshing Summer Tonic (hot infusion method)
A summer herbal iced tea made for those who are looking for something simple and delicious. The base herbs (raspberry, nettles and tulsi) are tasty and safe for all ages and offer a vitamin and mineral rich blend. Adding the rosemary serves cognitive function and the lemon and maple balance it out.
5g / 1 tbsp raspberry leaves (Rubus ideaus)
5g / 1 tbsp holy basil / tulsi (Ocimum sanctum)
5g / 1 tbsp nettles (Urtica dioica)
Sprig of fresh rosemary or thyme
Juice of a fresh lemon or lime
A tiny splash of maple syrup (optional)
Boil 8 cups of water, turn off heat, add herbs and cover and let sit for 10 minutes. Strain and add in lemon juice and maple syrup (optional). Cool and serve garnished with a sprig of rosemary and with a lemon slice.
Grounding And Centering Blend (decoction method)
This tea has it all: the nourishing nettles, calming oats, grounding and liver-supporting burdock and cinnamon to support a healthy blood-sugar balance. The additional of vitamin-c rich hibiscus and cranberry juice offers a nice zing and a refreshing drink which is also great for kids and with bubbly water and lime.
5g / 1 tbsp nettles (Urtica dioica)
5g / 1 tbsp milky oats (Avena sativa)
5g / 1 tsp burdock (Arctium lappa)
5g / 1 tsp cinnamon (Cinnamomum sp)
5g / 1 tbsp hibiscus flowers (Hibiscus sp)
Cranberry juice or cherry juice
Gently simmer nettles, oats, burdock and cinnamon in 6 cups of boiling water, covered, for 10 minutes. Turn off the heat and add hibiscus flowers. Let sit 10 minutes and strain. Cool and add 2 cups of cranberry juice.
The Best Of Bitters (a solar infusion tea)
Have you heard about how great bitters are for your digestion? If you haven't, there are loads of benefits and you'll surely want to add bitters to your life. This bitter blend is stimulating, refreshing, and intense in all of the right ways.
5g / 1 tbsp damiana (Turnera diffusa)
5g / 1 tbsp fennel (Foeniculum vulgare)
5g / 1 tbsp dandelion leaves (Taraxacum officinale)
5g / 1 tbsp chamomile flowers (Matricaria chamomilla)
5g / 1 tbsp green tea leaves (optional)
Peel of one organic orange or dried orange peel
Combine all of the herbs with 8 cups of fresh water in a glass container and place in the hot sun for at least 4 hours. You can chill and drink in the next couple of days. Nice with a slice of lemon or ginger.
Nana's Garden Tea (a kitchen sink approach using the solar method)
There really isn't a recipe for this one but at Nana's house in the summer this is always on tap and the kids love it. The idea here is to go out to your garden and just grab anything aromatic (and safe to consume) like any mint, catnip, lemon balm, raspberry leaves, sorrel, culinary herbs and spices, etc. Place the fresh herbs into your glass container, cover with water and let sit for a few hours and drink and enjoy. Remember, like other sun teas, this won't keep for long but if it is in the fridge you can get a couple of days out of it. Anyways, the fun is in the making, so just make more!
Bevin Clare, M.S., R.H., CNS, is a clinical herbalist and nutritionist and an Associate Professor and Program Manager of the Post-Master's Certificate in Clinical Herbalism at the Maryland University of Integrative Health. Bevin has studied herbal medicine around the world and blends her knowledge of traditional uses of plants with modern science and contemporary healthcare strategies as a consultant and educator. You can find Bevin's full bio and her musing on a variety of Clinical Herbalism topics, including infectious disease, at www.bevinclare.com.
This article was republished from www.bevinclare.com.
See also:
Time To Detox
Springtime Bitters For Renewal
Find local holistic Herbal Healing Practitioners in the Spirit of Change online directory.